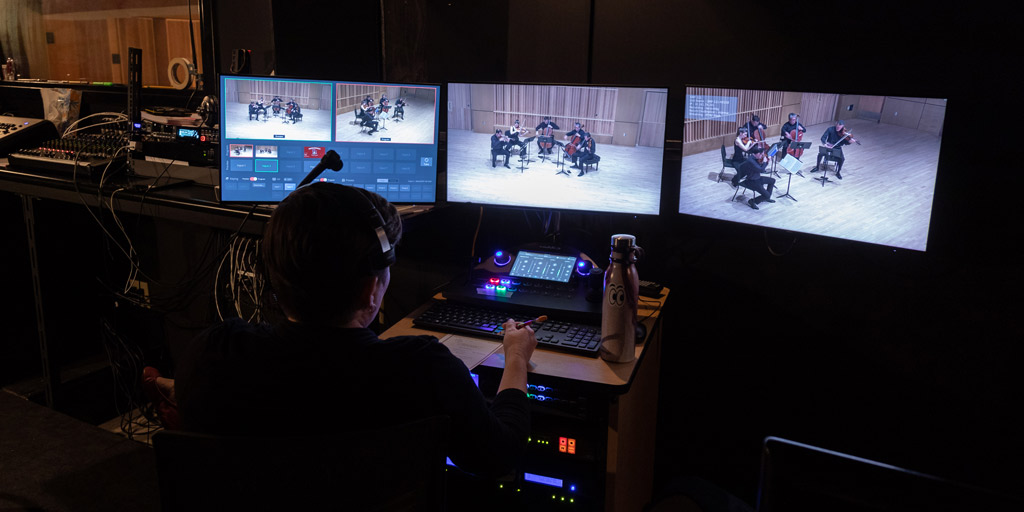 To make productions more accessible, especially during the pandemic, the Ernestine M. Raclin School of the Arts partnered with WNIT to create Arts@IU South Bend. The WNIT program broadcasts a Raclin performance on two days and times each month on channels 34.1 and 34.2.
Jorge A. Muñiz D.M.A., interim dean of the Raclin School and a longtime member of the Community Advisory Council of WNIT, suggested the idea, and WNIT agreed. "I'm excited for the opportunity to showcase IU South Bend's talent to a wider audience," said Muñiz. "And I am grateful to WNIT for trusting us with this content."
Early in the pandemic, when in-person audiences were not possible, the need for video and audio equipment became important. "We had to shift student recitals, which are required, to Facebook Live," explained Muñiz. "We had one camera," "and Facebook Live is not designed for music performance. It was a big loss not to have friends and family."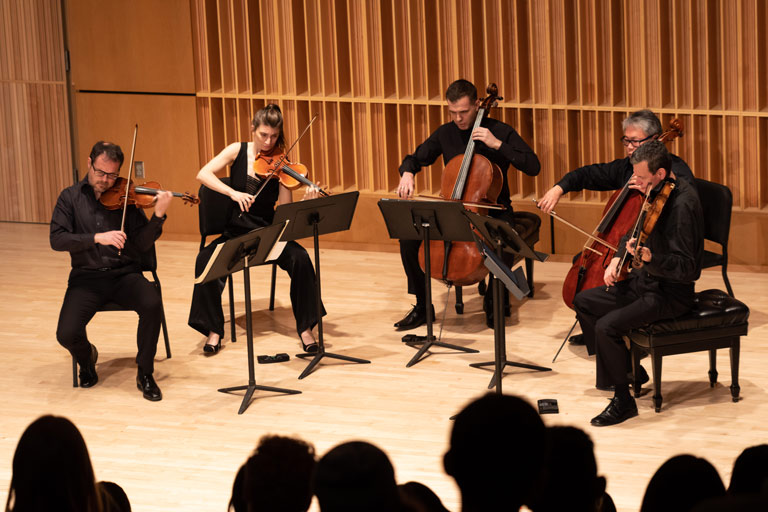 The Raclin School obtained a grant from the Community Foundation of St. Joseph County to purchase a multi-camera setup for live streaming in the Louise E. Addicott and Yatish J. Joshi Performance Hall and the Campus Auditorium. In addition, the School hired stage manager Sarah Brubaker and assistant stage manager Conway Jackson, who were experienced in video and audio production. "I'm very proud of our team's in-house video editing and production," said Muñiz.
The performances are recorded live, using the new equipment. After the live performance, Brubaker and Jackson produce it in-house for WNIT Arts@IU South Bend, which usually airs three to four weeks after the live performance.
With the new equipment, their own servers to control bandwidth, and in-house production expertise, the School can still have live audiences at their performances, but also make them more accessible to larger audiences.
Arts@IU South Bend programming including alumna pianist Natasha Stojanovska and guest classical pianist Caroline Oltmann, as well as a celebration of Afro-American music performed by IU South Bend faculty and students. In addition, the program will feature a faculty lecture by Natasha Somerville, visiting professor of fine arts.
"The programing highlights the diversity in the Raclin School of Arts," said Muñiz. "More people will be able to enjoy performances of our faculty, students, alumni, and guest artists."
View a schedule of upcoming WNIT Arts@IU South Bend episodes