IU South Bend faculty embrace their roles as both teachers and scholars. Because IU South Bend is primarily an undergraduate and teaching-focused campus, it promotes the engagement of students and faculty together in these endeavors. Faculty are not only instructors in the classroom but mentors in research projects, innovative endeavors, or creative productions.
Applied learning like this is a high impact practice, teaching students how to put into practice what they learn in the classroom and better prepare for the real world.
The integration of teacher and scholar is deliberate. IU South Bend faculty are the experts that students are learning from, because of their degrees and training and because they are regularly engaged in their ever-evolving fields of study or creative endeavors.
Much of IU South Bend's faculty research and scholarship activity is supported by grants obtained by faculty or partnerships with businesses and organizations in our community. Therefore, IU South Bend offers faculty and students strong support for obtaining grants and funding for their research and creative works. "Providing ways for faculty to be engaged as scholars is very important to us as a campus," said IU South Bend Chancellor Susan Elrod.
Top Scholars in Their Field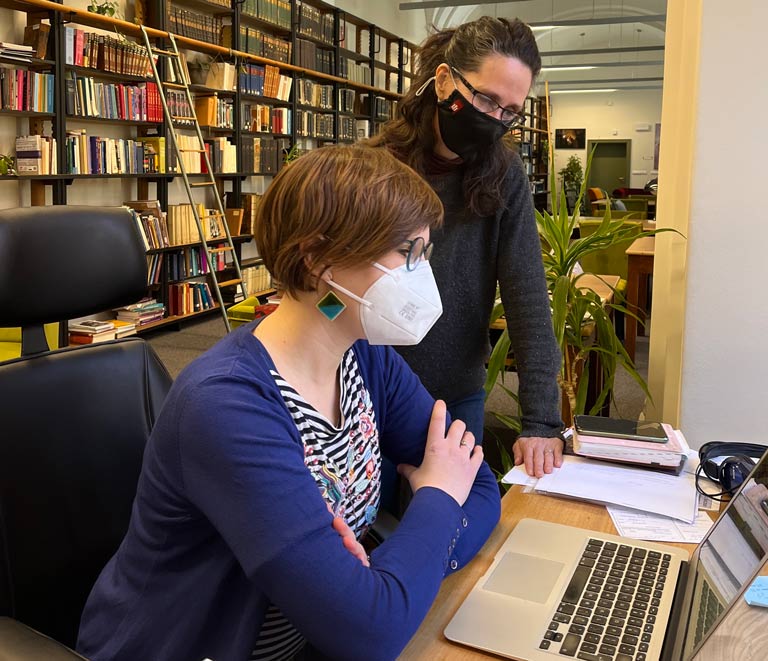 IU South Bend faculty are top scholars in their field. Dr. Lisa Zwicker, associate professor of history at IU South Bend, was recently awarded a prestigious Fulbright Fellowship for research on women's leadership the late 19th and early 20th century Poland. Dr. Shahir Rizk, associate professor of biochemistry, made history as IU South Bend's first national Cottrell Scholar. His research involves students in studying proteins which have implications for disease prevention and related health concerns.
Faculty Research Initiatives Impact Local and Broader Global Community
IU South Bend faculty research with students provides direct ties to our local community and the broader global community.
Associate Professor in Ecology Deborah Marr and her students surveyed 27 acres of the Bendix Woods nature preserve, one of the few old growth forests in the county where trees have not been removed or logged in over 150 years. The project was completed in partnership with Indiana Department of Natural Resources and St. Joseph County Parks.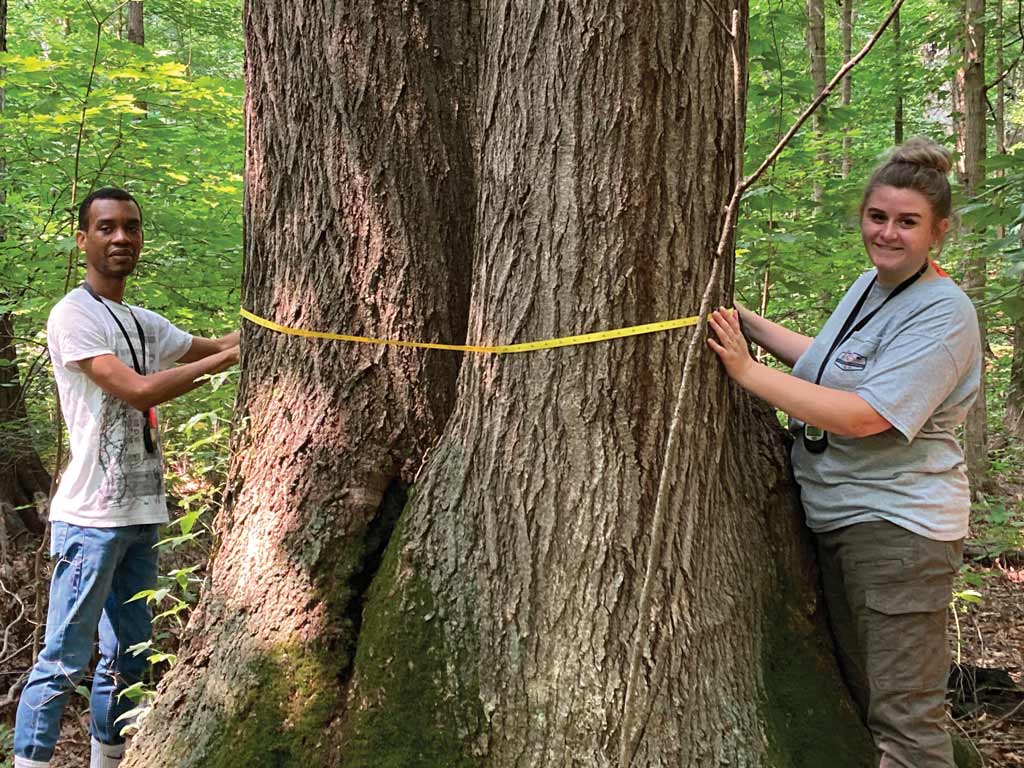 The 2021 survey followed two previous Bendix Woods surveys: one completed in 1969 of 10 acres and the other completed 1981 of the entire 27 acres of the nature preserve.
"These two previous surveys provided an opportunity to build on this long-term data set and see how intact forest ecosystems change over time," said Marr.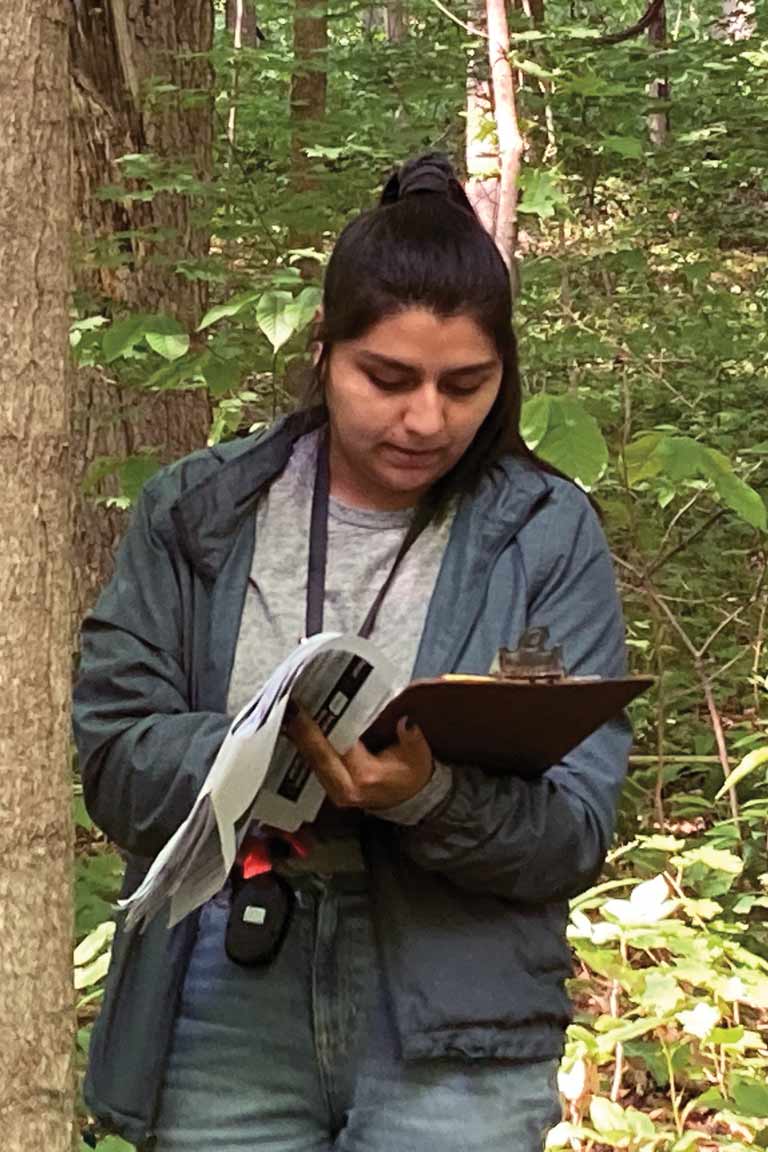 Marr involves undergraduates in all of her research projects and includes research experiences in her courses. In summer 2021, undergraduate biology students Marcus Bailey, Rose Inchauregui, and Brooke Shoop were the primary contributors to the Bendix Woods project and involved in ninety percent of the data collection. The students' summer research was funded by National Science Foundation Louis Stokes Alliances for Minority Participation (LSAMP) grants and a Community Engagement grant.
Marr and her students collected data on tree species, diameter, and location, allowing them to look at how the forest composition is changing over time in terms of species, density, and age structure of the species.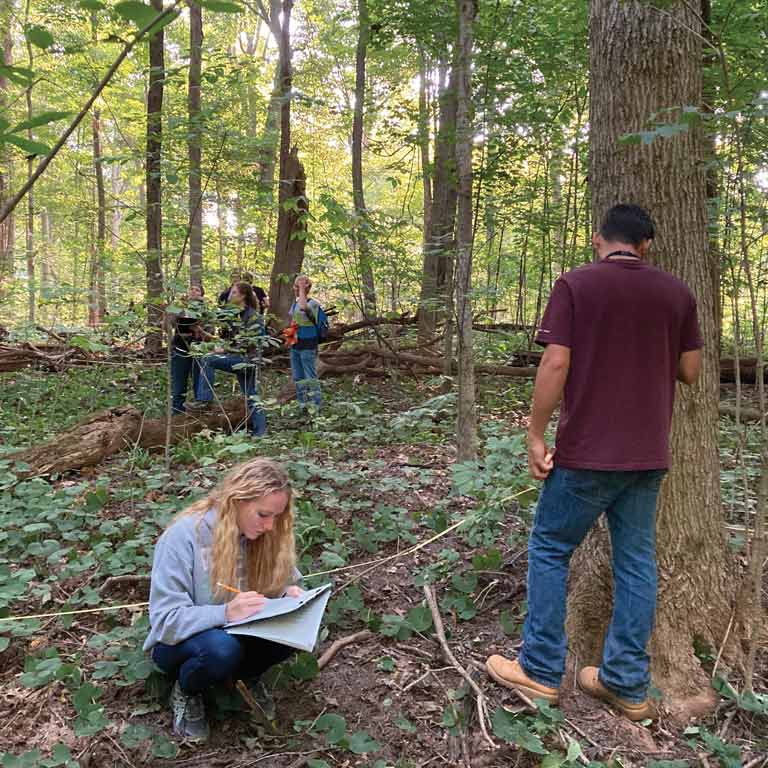 "We work as team," explained Marr. "The project provides students with experiences they need to get a career in the sciences. In turn, my students are looking at the project with fresh eyes, so they come up with questions I would not ask."
Professor and Chair of Fine Arts Susan Moore teaches photography and her work has been exhibited nationally and internationally. Her landscape images were selected for exhibition at the South Bend Museum of Art and recently, at the St. Joseph County Public Library's Michiana show. She has received grants from the Indiana Arts Commission to support her landscape photography projects. "I think it is very important that artists are active in their communities," said Moore.
In 2018, Moore was awarded a residency at the International Studio & Curatorial Program in Brooklyn, New York. And in 2022, she plans to attend the residency program at A.I.R. Vallauris, at the Vallauris Gallery in France. "The residency is a wonderful opportunity to work on my art and meet other artists," she explained.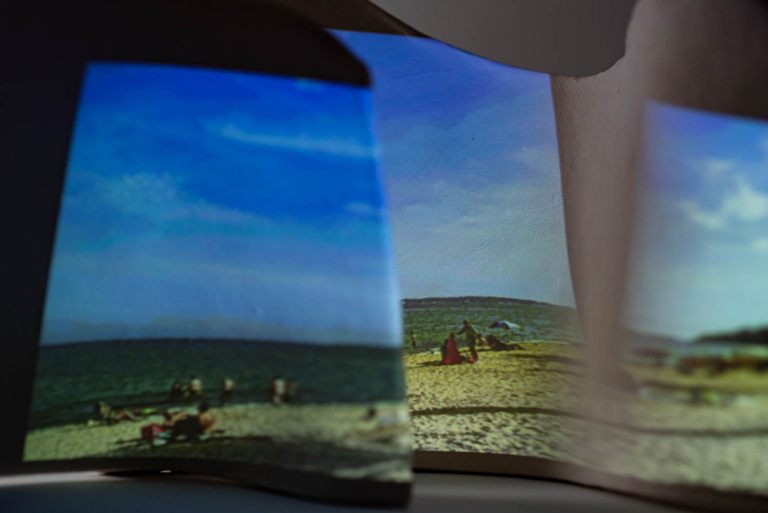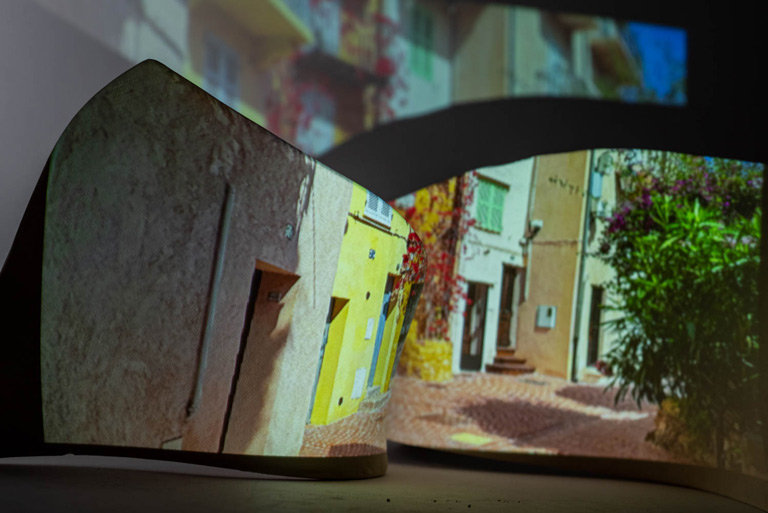 During her residency in France, Susan Moore was inspired by the light and color in the Provence region in southern France. These two pieces are part of her new project about travel and memory that will be exhibited at Bethel College in November.
Investigating Social and Economic Impact of Coronavirus Pandemic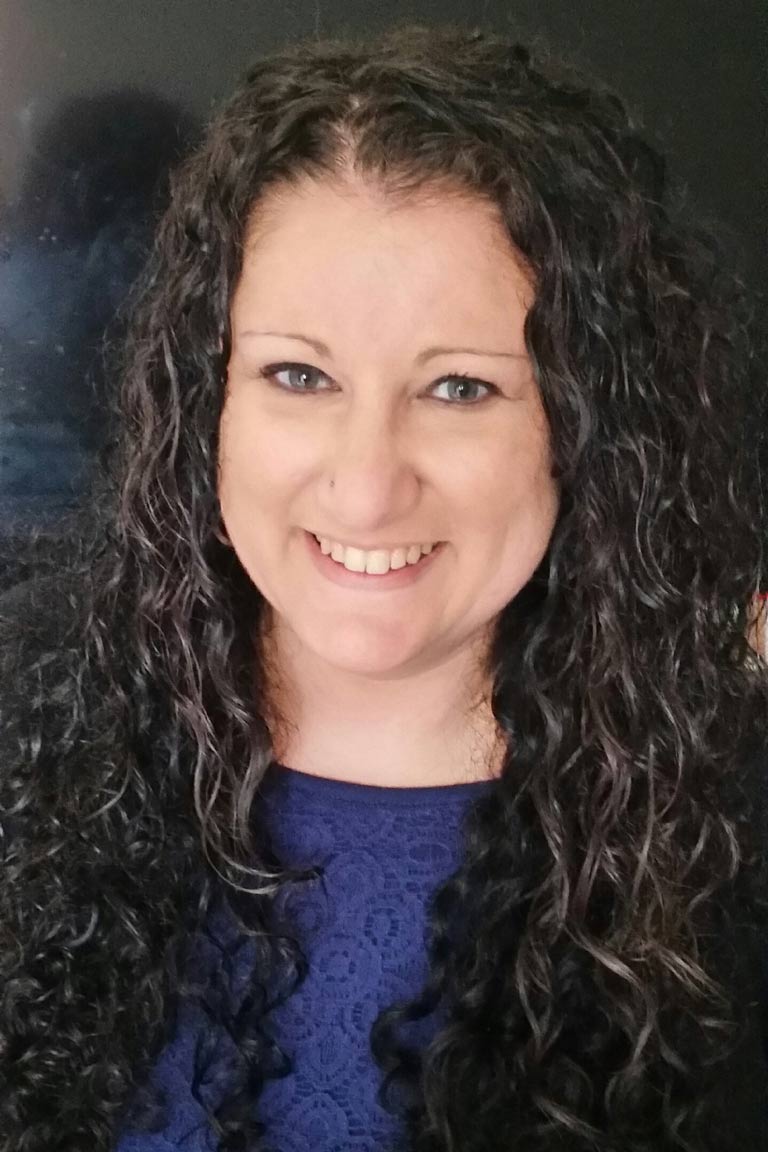 IU South Bend faculty research also provided important information and insights into the social and economic impact of the coronavirus pandemic. Assistant Professor of Criminal Justice Stacie Merken joined a team of researchers who studied the impacts of COVID 19 on prisons and how they differed in prison in other countries.
"The goal of the research was to draw attention to what protocols and policies need to be in place to address this specific population and stop the spread among prison individuals in the event of future pandemics," said Merken.
Likewise, Assistant Professor of Economics Huanan Xu, using data from the Current Population Survey (CPS) from Bureau of Labor Statistics (BLS), studied the impacts of the pandemic on minority unemployment and gender inequality in the labor market. Her research was published in two high impact journals, and her gender inequality research was cited in the New York Times. She also made an online presentation to the Government Accounting Office and the Federal Reserve Board of Boston.
Connecting her research to her teaching, Xu assigned her upper level labor economics class to use data to compare the impact of the pandemic recession with the 2007 recession across states, genders, and ethnic groups. Her students submitted their work to the Indiana University Undergraduate Research Conference and undergraduate students Rachel DeShone and Ethan Kertai were chosen to represent IUSB at the conference.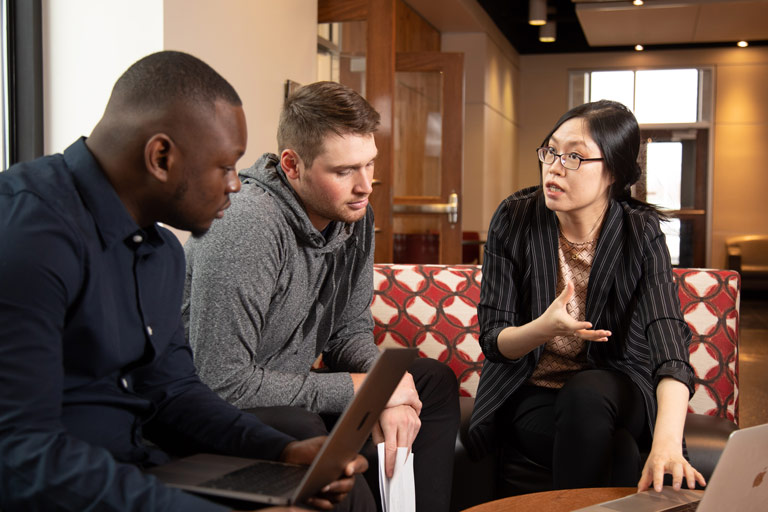 Seeking Answers to Real Word Questions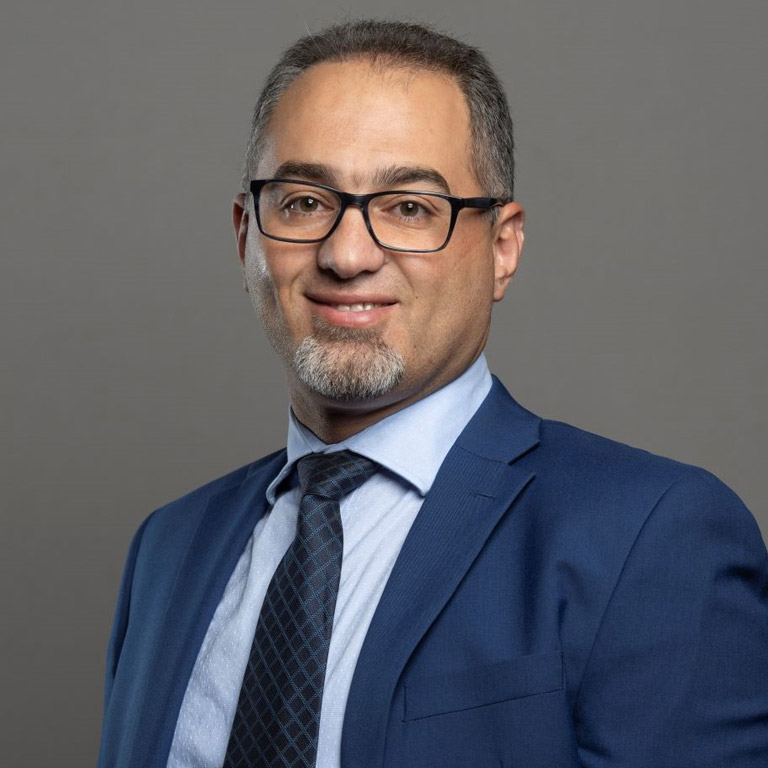 As a scholar of Information Systems (IS), Associate Professor of Decision Sciences and Department Chair Mohammed Merhi is interested in seeking clear answers to real-world questions that have significant practical relevance. Like his colleagues, Merhi also encourages student involvement in his research. He has co-authored two journal articles with undergraduate and graduate students that were published in the International Journal of Electronic Healthcare. The research analyzed and developed new systems that can be implemented in the healthcare industry. In addition he co-authored three papers with four students which were published in the proceedings of the Decision Sciences Institute, a national conference.
His students' papers have also been published in the Undergraduate Research Journal and presented at the Undergraduate Research Conference at IU South Bend, winning the best paper awards. "Working with students on research projects has benefits for students and me," said Merhi. "Students learn about research in early stages, which helps them if they decide to continue their graduate studies. It also improves students' motivation for learning. In turn, the mentoring relationship between me and my students helps me understand how students think and approach different problems, which improves my teaching techniques."
Likewise, student participation is also a key component in Professor of Physics and Astronomy Ilan Levine's research to discover the nature of dark matter—a major science goal throughout the world. During his tenure, Levine has involved sixty undergraduate students, eight high school students, and seven high school teachers. "I really want to give students a test run of what the profession is like working as a physicist," said Levine. "The experience also makes high school teachers better, teaching them what doing the real process of science is like."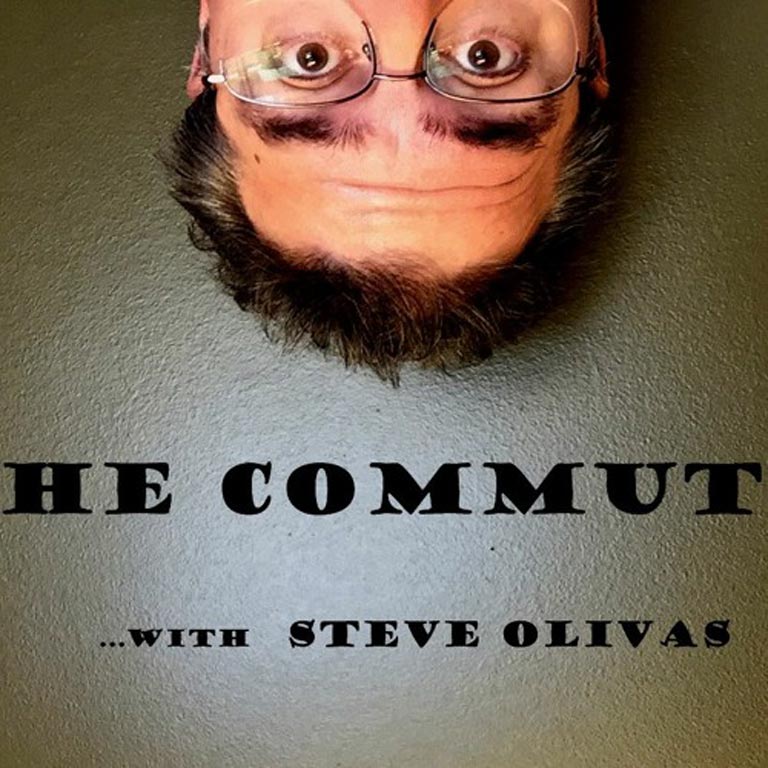 Check out this episode of the podcast The Commute with Steve Olivas featuring Ilan Levine discussing his dark matter research.
One-third of Levine's research students have been co-authors with him on instrument papers, and reports on attempts on his collaborations to find dark matter, analyze data, and design of apparatuses.
Levine has also been expanding his scientific inquiry in areas that have a significant ecological impact. Working with marine biologists to develop an apparatus to deter sharks, but not fish, in long line fishing vessels. "Almost 50 percent of the lines are occupied by sharks. The fishermen remove the sharks and throw them back in the water, but the sharks almost always die," explained Levine. "It's having a big devastating ecologically significant impact to shark population." He's also investigating new techniques to study the dynamics of large ice formations on earth.
"The integration of teaching and scholarship is essential to how we carry out our mission at IU South Bend," explained Chancellor Elrod. "The teacher/scholar stands as a powerful identity that distinguishes IU South Bend as a regional public campus. Teaching and research/creative activity constitute our core identity—each informing the other, and ultimately benefiting our students, our community, the state of Indiana, the nation, and the world."