A Road Map to the Future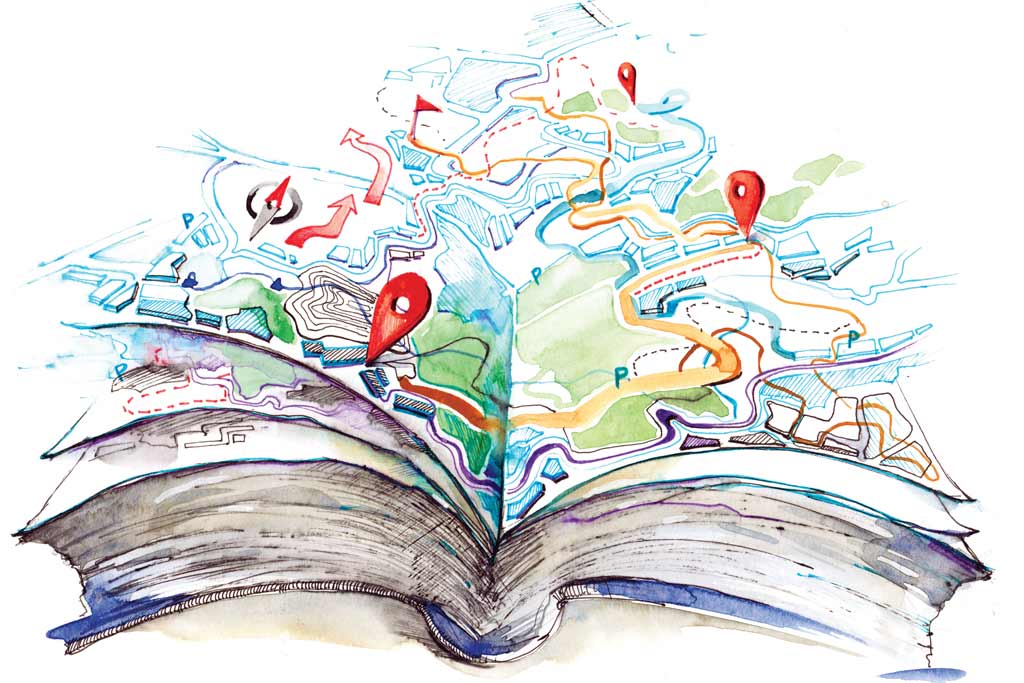 IU South Bend's new strategic plan was finalized in late 2021, providing a map for the campus to thrive into the next five years and beyond. The Campus Directions Committee shepherded the creation of the plan throughout 2021 with input from members of the campus and the community. They first revised the mission statement and complementary vision and values statements. Then, five task forces developed goals, desired outcomes, and strategies.
The first goal involves strengthening student enrollment, retention, and success. Enrollment has changed since the last strategic plan was enacted. The pandemic and shifts in the labor market have disrupted national college-going rates, and IU South Bend is facing the opportunity to reimagine its position. Strategies like coordinating a retention plan, fostering a greater sense of belonging, and integrating antiracist initiatives will lead to improved enrollment, retention, and graduation rates while removing diversity achievement gaps.
"We must consider how to meet students where they are to achieve academic success in the classroom," said Doug McMillen, assistant vice chancellor for Academic Affairs. "How can we create a sense of belonging for students who are often working jobs and caring for family while taking classes?"
Goal two tackles financial responsibility, stewardship, and vitality. This will be particularly in focus as the campus addresses revenue shortfalls due to enrollment declines related to the pandemic and the labor market and develops a sustainable budget model. With input from the Campus Budget Advisory Committee, leaders are working to rectify some legacy budget practices, increase revenue, and reduce operational size while remaining true to IU South Bend's mission.
IU South Bend relies on two main revenue streams: tuition, which makes up more than half of the income, and state appropriations. As tuition from enrollment decreases, increasing the percentage of revenue from other sources becomes more crucial.
"We have an opportunity to reimagine our campus to best serve our students and our region," said Chancellor Susan Elrod. "We must be creative and innovative and examine everything as we navigate this uncertain but opportune territory."
Gifts, grants, and donations play an important role. There are many ways donors can support IU South Bend. More than 200 different funds benefit our students through scholarships, learning opportunities, or department and program support. And, as the IU South Bend campus continues to evolve and grow, donors can support vital capital projects on campus, such as the planned Dwyer Healthcare Simulation Center. Planned giving can establish a legacy at IU South Bend through will bequests or gifts of assets.
To learn more, those interested should contact Director of Development Dina Harris at diharris@iusb.edu.
"We are confident by following this plan, and with help from friends, we'll put the campus on a sustainable path within the next three years," said Daniel Petree, interim vice chancellor for administration and finance. "If supporters want to be part of the solution of reimagining IUSB, now is the time to do it."
The plan's third goal will lead to continuous strengthening of high-quality, equitable educational opportunities. Leaders will evaluate the possibility of transitioning the Honors Program to an Honors College and ensure academic programs meet the educational, societal, and workforce needs of North Central Indiana. Another expected outcome is to expand opportunities for high impact practices, like community engagement coursework and activities, internships, undergraduate research and creative work, and study abroad.
Goal four takes on the important work of advancing diversity, equity, and inclusivity and a sense of belonging for all on campus and in the communities IU South Bend serves. Work on this goal will identify and deconstruct systems of oppression and result in increasing trends in the recruitment, hiring, and retention of faculty and staff from historically underrepresented communities. One strategy is that faculty, staff, and students will create a campus diversity, equity, and inclusion plan and align practices and values with the plan.
The fifth goal aims to enhance community, regional and national partnerships. Identifying opportunities to expand connections that open doors to educational opportunities, such as internships or programmatic collaborations with community organizations, will be central to success. Increased attention to Elkhart programs and partnerships as well as greater ties to entrepreneurship and economic development programs are already underway.
Read more and view the full plan