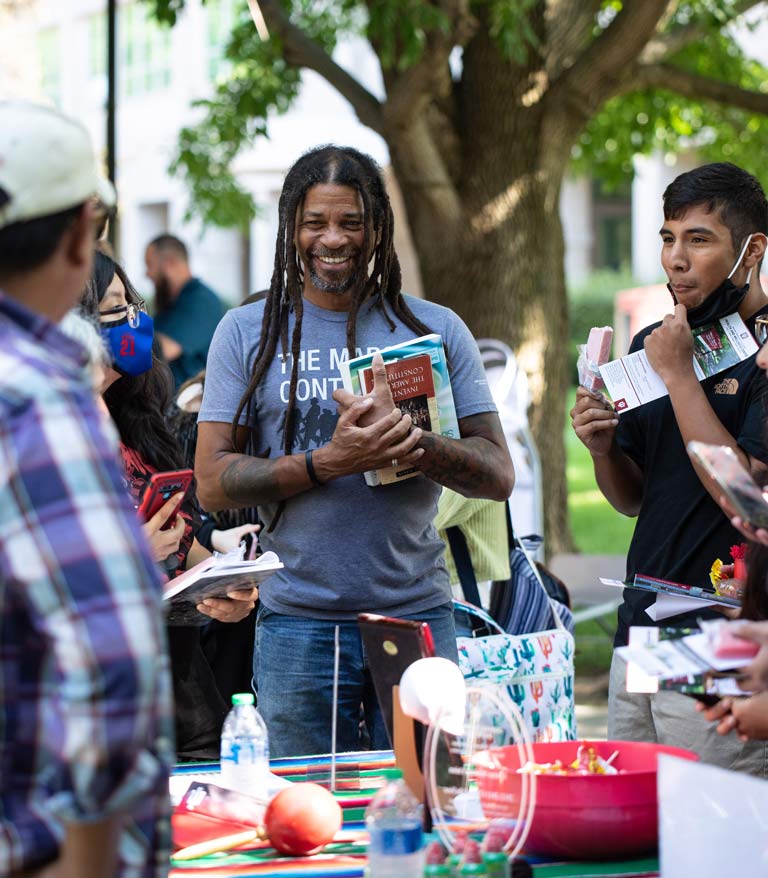 This fall, with COVID-19 safeguards in place, the Indiana University South Bend campus came alive, hosting a weeks-long extravaganza to celebrate bringing #TitansTogether again. In addition to a warm welcome back convocation for faculty and staff, schools and colleges kicked off the 2021–22 academic year by welcoming new students and second year students to the Titan community with an array of special events and a student convocation in the auditorium. The convocation concluded with students reciting the Titan Pledge and a presentation of IU's alma mater, Hail to Old IU. Students departed the convocation to a campus barbeque passing through a cheer tunnel formed by faculty and staff.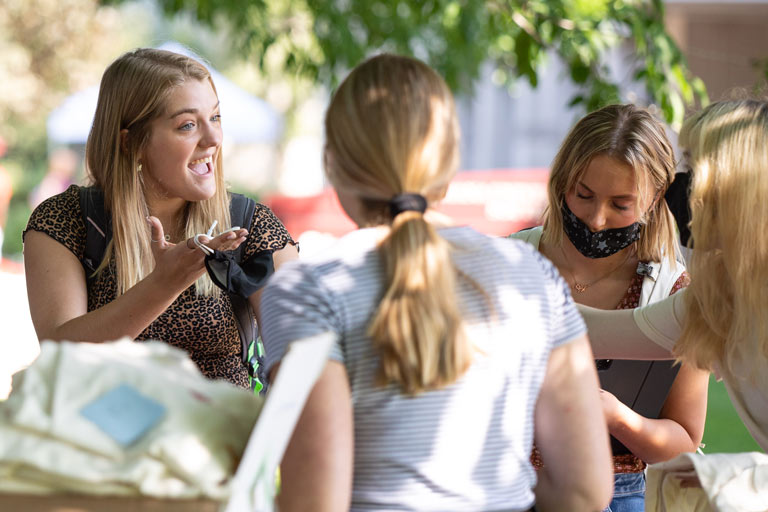 "Our goal was to create a special welcome back environment," said Chancellor Susan Elrod. "With the appropriate safety measures in place such as masking, high vaccination rates, and testing, we were excited to return to in-person learning, athletics events, Raclin performances, and student government, clubs, and organization meetings."
In the first few weeks of the fall semester, students had opportunities to participate in over 50 fun events, such as an ice cream social, the Titan Splash run, an outdoor movie, and a student government barbeque, to name a few. A Student Involvement Fair showcased student clubs and organizations our Titans could join and participate in. Schools and colleges hosted events to welcome students and share information about their degree programs. The campus also held a career fair where students could engage with potential regional employers.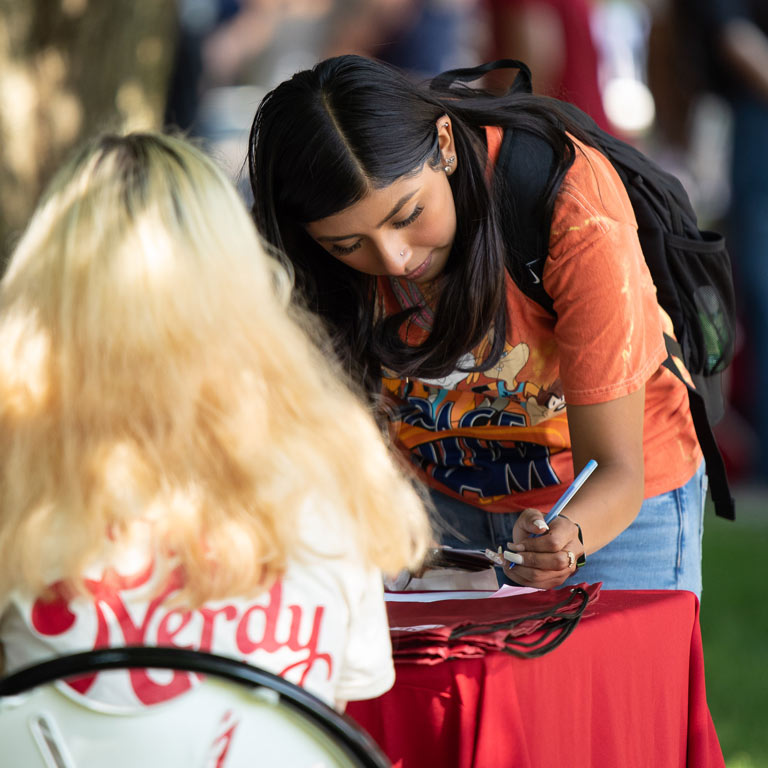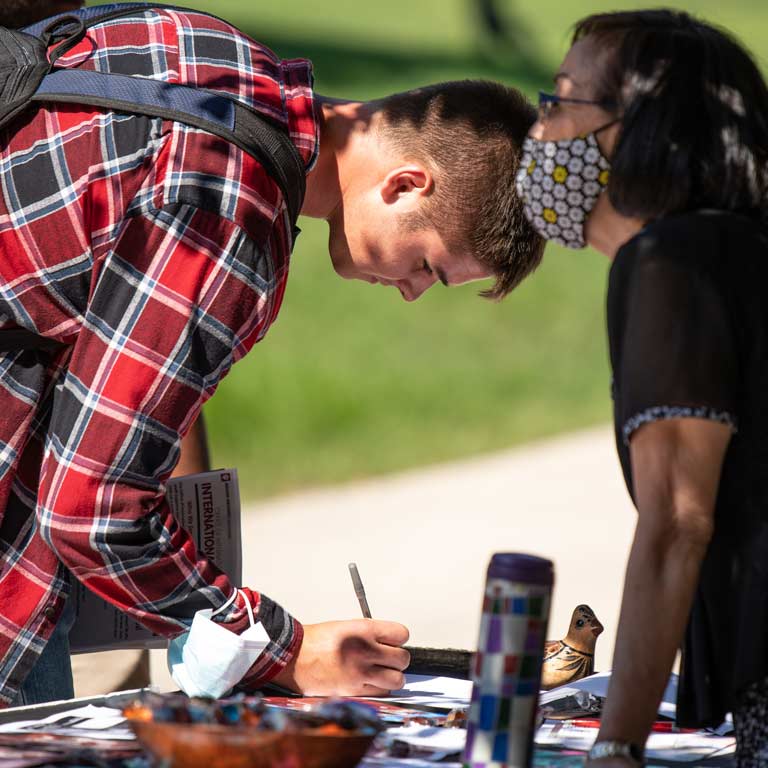 "We wanted to introduce our freshmen, and our sophomores who did not get a welcome to the campus last year, to all the opportunities available to them," said Vice Chancellor for Student Affairs and Diversity Monica Porter. "The month of August focused on showcasing student clubs and organizations, community engagement activities, academic and athletic events, clubs, and organizations and campus-wide events and performances to display all the ways students can engage and get involved on our campus."
"Research shows that students who feel like they belong to the campus typically do well academically, and they complete their degrees," said Vice Chancellor Porter. "Student engagement in campus activities outside of the classroom is a critical component to student success," she explained. "Students feel like they belong and they develop close relationships with their peers and faculty and staff. They feel grounded and want to participate and succeed in their education."
In addition, engaged undergrads feel a connection to the campus after graduation, too, noted Porter. "Our alumni come back to campus to share their expertise with our students and participate in student activities, athletic events, and campus performances as well as pursue our graduate degree programs."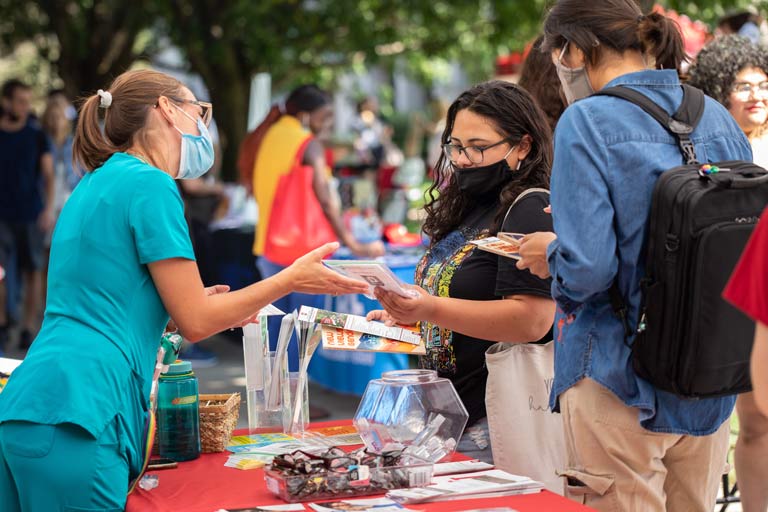 "Students, faculty, and staff are all delighted to be back in-person on campus," said Vice Chancellor Porter. "We all missed the connections that in-person learning and extra-curricular activities and events provide," she remarked. "Learning in-person means more than just going to a physical classroom. It means having spaces to focus on schoolwork and interact with staff and faculty and spaces for club meetings where students can meet like-minded people. It provides the spaces and opportunities to connect and engage in their college experience. We're happy we could come back safely!"