IU South Bend Recognized for Commitment to Veterans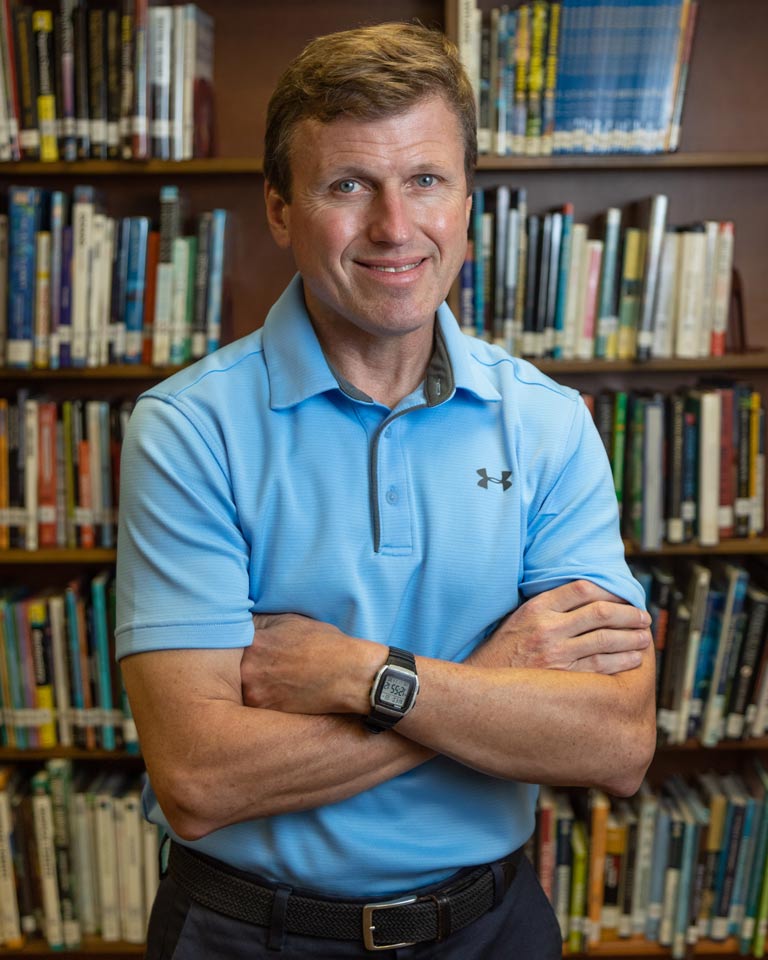 Dan Walsh served in the Navy for 20 years, flying maritime patrol aircraft tracking Soviet submarines during the Cold War for part of his service. When he retired in 2005, he had a strong desire to contribute to the community here. After teaching in schools in Chicago and South Bend, he decided to earn a master's in educational leadership at Indiana University South Bend and graduated in May 2021.
Like other veterans, Walsh has hard-earned education benefits from his time in the military. Navigating the confusing world of military and Veterans Affairs (VA) resources can be daunting. He turned to the IU South Bend Office of Veteran Student Services for help, and Savanna Hebert-Annis got to work.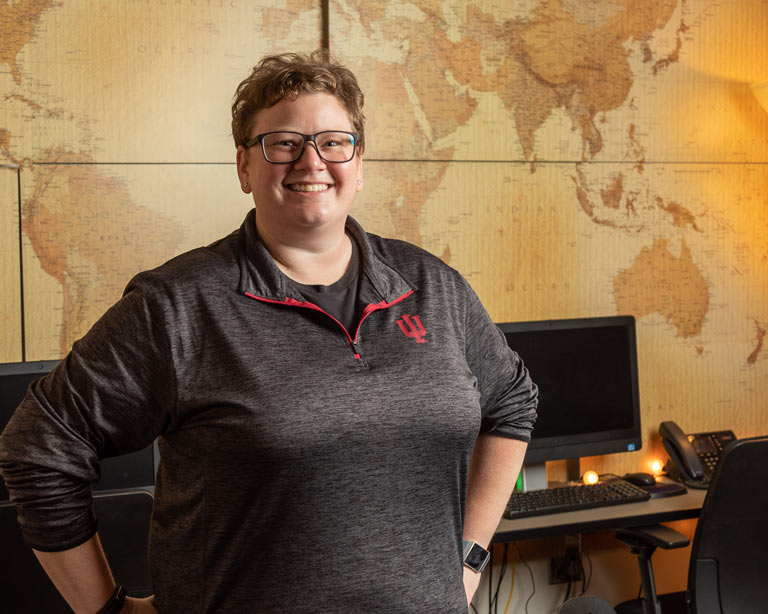 "She helped interface with the VA assistance officer to massage a couple of things to make sure that tuition and books were paid," said Walsh. "Without her, I don't think it would have been approved."
As the assistant director of the Office of Veteran Student Services (OVSS), Hebert-Annis is the go-to resource for IU South Bend students who are veterans, service members, or affiliated with the military. And thanks to the campus's focus on supporting student veterans and the growth of OVSS, IU South Bend recently earned a 2021-22 Military Friendly School designation. It is the first Indiana University campus to receive this recognition.
In Walsh's case, he might not have been able to pay for tuition or achieve his goal without the stipend benefit and he credits OVSS for making sure it was all certified.
"It was honestly seamless. I didn't have to worry about anything; books were delivered to me after I ordered them online, kind of like Amazon," he said.
Walking into the front entrance of IU South Bend's Administration Building, visitors encounter the OVSS almost immediately. Couches and soft lighting create a welcoming environment; Hebert-Annis wants the space to be a friendly place for all, military affiliated or not. Creating this space gave the military student community on campus a home. Activities like the Schurz Library's Veterans Book Club and the campus Veterans Day events offer chances for students to be recognized and included.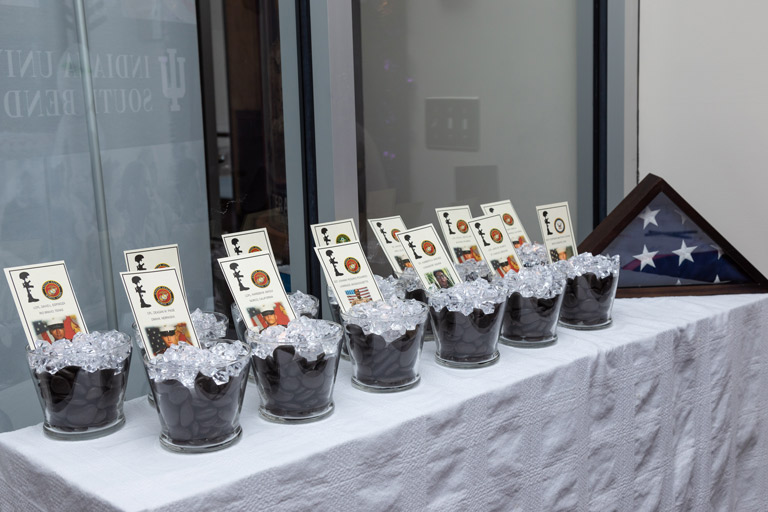 Recently, as the U.S.military withdrew from Afghanistan, OVSS recognized those on campus who may have served overseas could benefit from open discussion and support. Hebert-Annis organized gatherings to provide that safe space.
The military friendly designation recognizes more than just community support, though. The goal is to help military-affiliated students succeed academically and personally and graduate with a job in their chosen field. Applicants must show data and results in several categories: academic policies, financial assistance, retention, graduation rates, and career achievement.
IU South Bend earned a bronze-level designation for the campus's self-guided assessment of these factors, exceeding the benchmark standards set by the Military Friendly® Advisory Council that provides perspective on criteria, methodology, and weighting. More than 1,200 schools participated in the survey and 767 earned the designation.
Savanna Hebert-Annis spearheaded efforts to complete the required survey and spent a few years establishing the foundation to apply for it, setting goals and tracking retention, graduation, and other metrics. The process allowed the office to show its growth and the campus community's commitment to military-affiliated students. The designation also shows areas where the campus can improve.
"Our student veterans enrich our campus with unique perspectives and life experiences, enhancing our community," said Vice Chancellor Monica Porter. "We are proud to support them and look forward to expanding our services and programs to co-create excellent academic outcomes with them."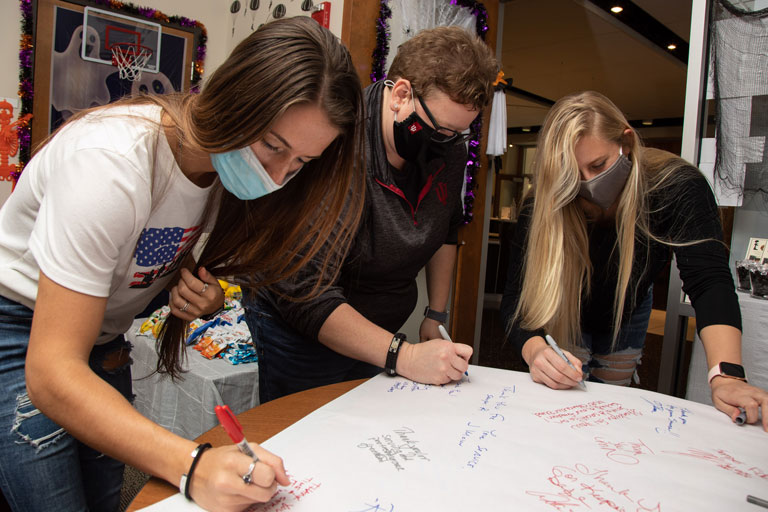 Hebert-Annis said there are between 300 and 400 military students at IU South Bend per semester. Sailor Davis-York is one. A nursing student who serves with the Indiana National Guard unit in Plymouth, she graduated early from high school and finished training so she could "both get a four-year degree and serve my country," she said. Her unit was activated in October 2020 on a COVID mission, operating testing sites and helping in nursing homes and prisons.
Davis-York said that the OVSS has become a trusted resource for her, helping steer her through a software system required for inputting courses in a certain way so tuition costs are paid.
"Savanna has been amazing, not only as a VA counselor but as a human being," Davis-York said. "She understands. If you need a resource, she sets up meetings and gets it done." Hebert-Annis is aware that military-affiliated students might be treated differently, that there could be stigmas attached to what it means to be a veteran. She's proud that OVSS helps dispel those stigmas.
"Bringing visibility, breaking barriers and creating community…I am all about teaching and giving folks the tools they need to succeed," she said, pointing to a comprehensive statewide resource guide she's developing and constantly updating to give students information, "even if those resources might be outside our region."
"IUSB was very military friendly," remembered Walsh. "They are supportive of folks who had challenges, like with the food pantry. And they were always cognizant that there are people who wouldn't be here or stay here without some of this support."
"They make sure every veteran is taken care of," remarked Walsh.