Dwyer clinics prepare future health care professionals, provide affordable dental and health care to community
The Vera Z. Dwyer College of Health Sciences not only educates future health care professionals, it also houses two spots for on-campus health care: the Dental Clinic and the Health & Wellness Center. Both clinics specialize in providing care for IU South Bend students, faculty, staff, as well as the broader community.
IU South Bend's Dental Clinic delivers clinical experience for second semester junior and senior dental hygiene students as well as affordable dental services to community members. The clinic offers services 10 months out of the year and serves 2,500 patients annually. One full time faculty dentist and multiple adjunct instructors oversee the students' work. "Patients pay with their time," said Mallory Edmondson, MSDH, RDH, clinical assistant professor and director of dental education. "In addition to getting the best cleaning of their life, an instructor checks every single tooth." First-time patients also get a complete set of x-rays. Treatment times average three and a half hours and every patient leaves with a treatment plan, which is explained by their student dental hygienist.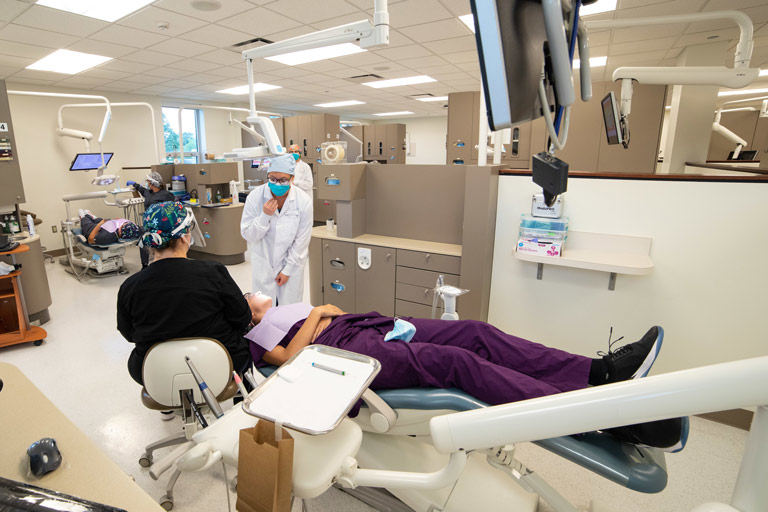 In addition to providing a service to the community, students get an opportunity to work with a variety of patients ranging in age from 18 months-old to senior citizens. "We serve everyone. We constantly challenge our students to move from being college students to professional medical providers," said Edmondson.
Patients who need additional services might be referred to HealthLinc, a federally qualified health center in Dwyer Hall on campus. "When they are done with their cleaning we can walk them over to HealthLinc," Edmondson said. The Dental Clinic has affiliation agreements with the Boys & Girls Club, Logan Center, and South Bend Community Schools to educate their populations about oral health.
As part of a required community service-learning project, senior dental hygiene students collect information and develop a targeted outreach program for a specific population in the fall semester and implement the program in the spring. Senior dental hygiene students creating outreach programs may also partner with other health science students to provide a comprehensive approach, like with graduate students in speech and language pathology to provide swallowing and hearing screenings for children and the elderly.
In addition, the Dental Clinic hosts regular events such as free cleaning and exams to veterans and school-age children. "We could not do our outreach without the generous help of our alumni, local dentists, and organizations," said Edmondson. "It also creates partnerships that help our students network with potential employers."
Likewise, the IU South Bend Health & Wellness Center, located in Dwyer Hall, provides a wide array of health services to students, faculty, staff, and the community for free or at a reduced fee. Patient services include screenings, family planning, non-urgent illness and injury visits, immunizations, physical exams, and drug screens. Patients who may need more specialized services, such as monitoring and treatment for hypertension, and do not have a primary care physician are referred to HealthLinc. IU South Bend's connection to HealthLinc, a state school affiliating with a federally-qualified health care provider, is unique. "It's a great partnership," said Kari Frame, IU South Bend Health & Wellness Center operations director. "We can be a one-stop shop for our patients."