Alumna honored for bridging the language gap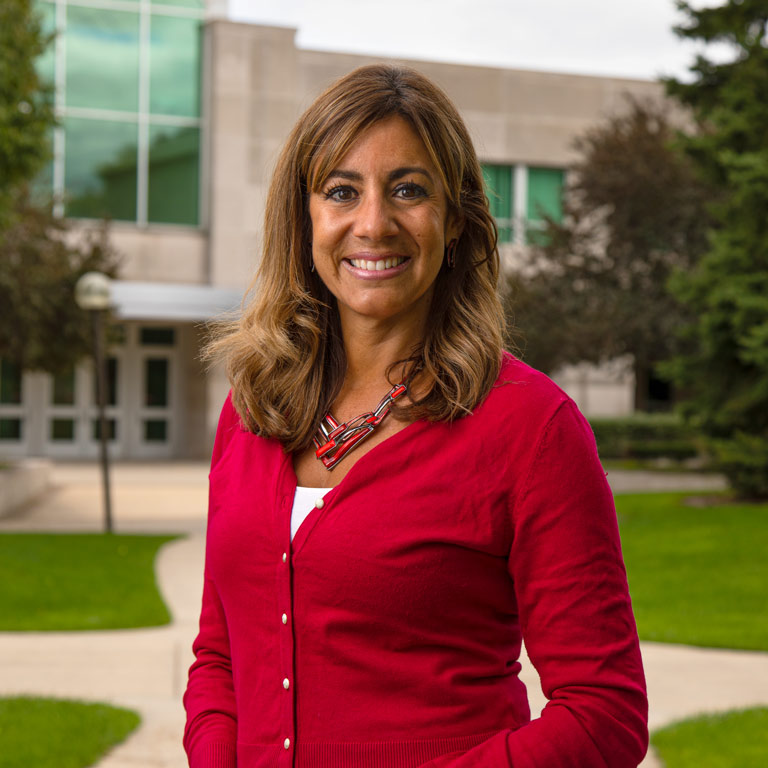 IU South Bend Alumna Susannah Bueno, BS '94, was awarded the 2019 Community Service Award by the Latin American Chamber of Commerce for her work as an interpreter and translator in the community. "I love that I get to work with so many communities," Bueno said. "It's so important for people to know and understand what is happening. I am the person who bridges the language gap for them."
The former high school teacher began her career as an interpreter and translator part-time at St. Joseph Regional Medical Center (SJRMC). "I never intended to leave teaching," said Bueno. "After the birth of my second child," Bueno explained, "I started interpreting part-time at SJRMC."
Bueno's eight years of teaching experience in high school and three years simultaneously teaching Spanish as an adjunct professor at IU South Bend prepared her well for her new career. In 2001, she joined SJRMC full-time to become an interpreter/trainer. She became certified as a medical interpreter and trainer at Bridge the Gap, a nationally renowned medical interpreter program based in California. In addition to helping medical patients bridge the communication gap, Bueno also taught medical interpreter classes at SJRMC.
Bueno's skills led her to become the only simultaneous news broadcaster interpreter at local news television station, WSBT Channel 22, a CBS affiliate, via Secondary Audio Programming (SAP) for three years. She has recorded commercials for the local Spanish channel Telemundo and has extensive experience doing advertising voiceovers.
Her experience at WSBT also opened the door to other opportunities, she said, like participating in radio programs and being the master of ceremonies at local festivals and events.
In late 2007, after being certified as a judiciary interpreter through the Indiana Supreme Court, Bueno ventured out on her own as a freelancer.
Today, her work takes her throughout Northern Indiana, Berrien County, Mich., Indianapolis, and Chicago. "I love that no day is ever the same," said Bueno. "I may be at a factory in Elkhart translating benefits at an enrollment meeting or in Indianapolis at an immigration hearing."
When she has downtime, she also does freelance work as a telephone interpreter with Certified Languages International. "It's something I can do whenever I am available," said Bueno. "I just need a landline."
Born in San Juan, Puerto Rico, Bueno followed her older sister to Marquette College in Milwaukee. "It was the first time I had ever seen snow, and I hated the cold weather and the short winter days," she explained. Her sophomore year, she transferred to Central Florida University where she met her husband, who was a student at Indiana State enrolled in a semester-long program at Disney's Magic Kingdom Park. "He was a jungle cruise skipper and I was working part-time at the haunted mansion." After they were married, they completed their degrees at IU South Bend.
The couple planned to move back to Florida after they graduated, but it never happened. "We started our careers here," she explained, "and then our two daughters were born."
Bueno loves being able to touch so many lives in so many ways. Her work as an interpreter has led to immigrants being granted asylum and citizenship, she explained, and her work as a translator has led to convictions being overturned, after she translated documents and tapes. "I fill a great need in our community," she said. "I have never had to advertise. All my clients have come through referrals."
Her passion and dedication to her work continues to drive her success. "It's wonderful to be the person to break the language barrier," she explained. "I've never looked back. I love what I do."