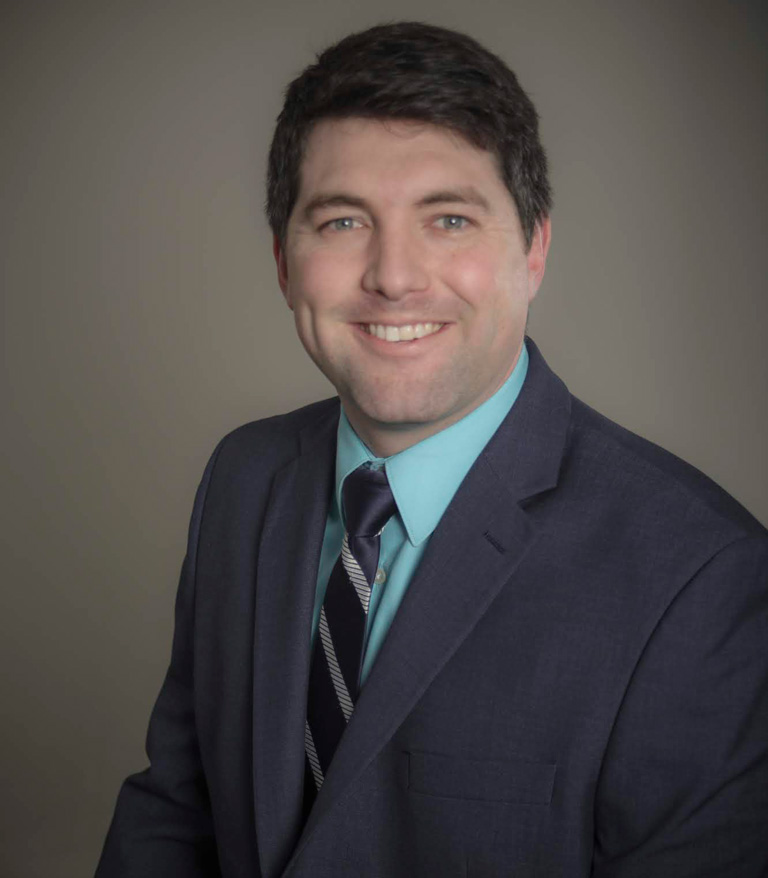 Currently a principal at LaSalle Elementary School in Mishawaka, Ben Domonkos earned a Bachelor of Science in elementary education in 2011 at IU South Bend. He then returned to complete his Master of Science in educational leadership in 2019. As an undergraduate Ben was happy to attend IU South Bend so he could continue coaching football and basketball at Our Lady of Hungary School while pursuing his degree. Additionally he found the affordability of IU South Bend to be extremely appealing and took advantage of the opportunity to work on campus at the Ernestine M. Raclin School of the Arts Box Office.
What was your experience like while you were a student at IU South Bend?
I appreciated having a diverse group of people who also lived around the area. While we were all somewhat local, we all came from different areas of Michiana and that helped form a unique atmosphere.
The professors were also extremely present. They were truly actively engaged in our preparation and careers beyond the degree. I appreciate the fact that I am still in contact with some to this day.
Tell us about your career path.  
I graduated from IU South Bend with my bachelor's in elementary education in December of 2011. I taught one year of middle school social studies at Our Lady of Hungary, moving to Tarkington Traditional School and then Swanson Traditional School where I taught third-fifth grade for the South Bend Community School Corporation from 2013-19. In 2017, I returned to IU South Bend to earn my masters in educational leadership. I graduated in May of 2019 and became the principal of LaSalle Elementary for School City of Mishawaka, where I continue to work.
What do you believe others would say makes you a great educator?
My energy and enthusiasm are probably the most obvious. I pride myself on having a strong and genuine rapport with students and staff. While I love to have fun and joke, I am also extremely hard working and enjoy trying innovative ways to solve problems or making learning fun and more effective.
You received the Principal of the Year Award from Whole Brain Teaching (WBT). Tell us about WBT, why you like it, and how you've used it.
Whole Brain Teaching is an instructional system that encompasses classroom management, great instruction, and character education. It uses the whole brain to engage students and make learning meaningful. 
I like it because it works! I have watched it transform good teachers into great ones. WBT gives educators a playbook to help them change their behaviors in a way that works for kids. I was introduced to it in my first year at Tarkington and I have used it every year since. We eventually moved it to be a school-wide initiative.
When Tarkington Traditional School was moved to Swanson Traditional School under SBCSC's Focus 2018 we gained a few new, but veteran teachers. I taught two 20+ year veteran teachers how to use WBT and learn the language of the students. I believe it revitalized both of their careers and gave them a leg up for working with students at Swanson.
What are you doing to support your teachers and keep your students engaged right now? Does WBT play a role?
I support teachers and student engagement by being an active participant in the process. I am excited to jump into a classroom and lead a lesson or help a teacher apply WBT to a lesson. I NEVER want to be viewed as an administrator who has forgotten what it is like to be a teacher.
When I got the job to be the principal at LaSalle Elementary one of those veteran teachers I worked with at Swanson encouraged me to take WBT to my new school. I listened to his advice and after spending some time studying LaSalle's needs I pitched WBT to our Professional Learning Community Leaders and central office at School City of Mishawaka.
With their go-ahead, I connected with Chris Biffle, "Coach B," founder and director of Whole Brain Teaching. We began weekly coaching sessions to plan our implementation in the best way possible and we launched WBT school-wide before the shut down in March. 
When we returned to school in August we were 100% virtual and we were ready to lead effective virtual instruction using WBT. The results have been positive, and not only are the teachers using WBT, but the school's staff is invested in the program too.