Assistant Professor of Biochemistry and proud alumnus Shahir Rizk made history this year. He is the first-ever IU South Bend faculty to be honored with the Cottrell Scholar Award; one of only eight Indiana University faculty to receive the award since its inception in 1994; and one of only 24 pre-tenure faculty nationwide to receive the award.
"The day I learned I was named a Cottrell Scholar was a very good day," Rizk said. "It was the day I also learned two of my students were accepted into PhD programs at the University of Notre Dame and the University of North Carolina."
The Cottrell Award recognizes outstanding early career scientists who support a pioneering research program while addressing education needs in their institutions. The award provides $100,000 to each recipient. Rizk's proposal included both a research and teaching component. For his research, he proposed the development of nanostructures that can assemble and disassemble in response to a chemical or biological signal. The teaching component featured strategies to promote science communication and expose undergraduates to the many dimensions of practicing science.
"The Cottrell Scholar Award provides funds not only to advance my research, but it enables me to expose my students—many who are first generation [college] students and have little exposure to working scientists—to the many dimensions of practicing science, so they can make informed choices and be more successful in their careers," explained Rizk.
He understands first hand the difference an attentive, inspirational professor can make in a student's life. He came to IU South Bend as a student from Egypt. "As an international student, I had no plans for graduate school when I came to IU South Bend," said Rizk. Inspired by an undergraduate research project with Professor of Biochemistry Gretchen Anderson, he shared his interest in pursuing a career in academia. "I told her I wanted her job, and she said 'You can get your own job,'" said Rizk with a smile. He went on to Duke University, earning his PhD in biochemistry and became a National Institutes of Health postdoctoral fellow at the University of Chicago. He took a position at the University of Notre Dame but came to IU South Bend when a faculty position opened in the sciences. "I chose to come to IU South Bend because I wanted to be more involved in teaching and work with some of the same professors who inspired me."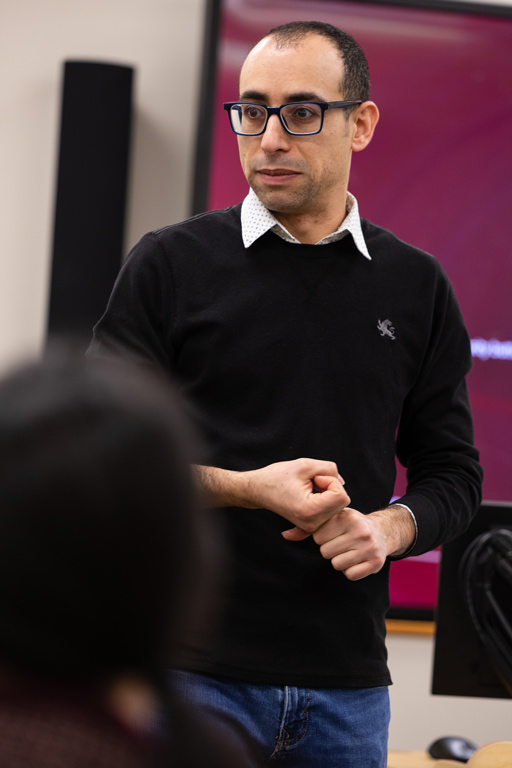 Likewise, Rizk seeks to inspire his students. "With few scientific role models, science, technology, engineering and math (STEM) majors at IU South Bend are taught to have a good grasp of scientific concepts; however, many are not informed on the diversity of career paths they can pursue. They often lack a clear vision of the environment and challenges they will encounter in graduate school or industry," Rizk said. His goal is to introduce them to the many dimensions of practicing science, enabling them to make informed choices and be more successful in their careers. He invites guest speakers that are scientists to his classes, so students can learn more about what they do and their career paths.
In addition, Rizk incorporates discussions about topics that are related to the practice of science beyond the classroom. He introduces his students to the everyday aspects of practicing science and helps them become more aware of current issues in science policies."For example, they may be targeting a pharmaceutical career, but they have no knowledge about the policies around drug development," he explained. "I want them to have a realistic view of what it's like outside the classroom."
He also strives to prepare his students to be thoughtful, engaged, practicing scientists in their community."Science communication is a big deal," said Rizk. "Most of our students stay here after graduation, so it's very important that they can engage in healthy productive discourse with non-scientists in our community."
Three years ago, Rizk was named to the 2016 class of Michiana Forty Under 40. Today he's the first IU South Bend faculty to earn the Cottrell Scholar Award, highlighting his talent as a research scientist and teaching scholar. He has achieved a lot in his young career. "It's all fun," he said.