Susan Elrod Named Chancellor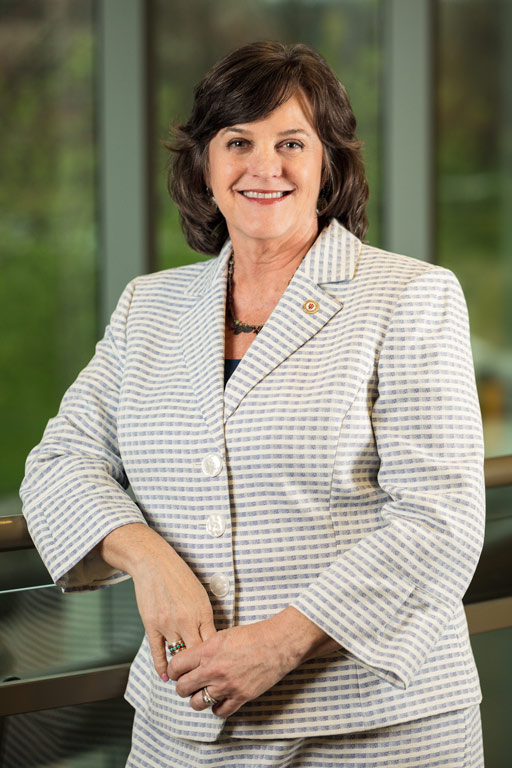 Susan Elrod will begin her duties as the new chancellor at Indiana University South Bend on July 1. She comes to campus after serving as the provost and executive vice chancellor for academic affairs at the University of Wisconsin-Whitewater. Elrod recently sat down with Ken Baierl, chief of staff and director of communications and marketing, for an interview for Foundations.
---
You were named the next chancellor of IU South Bend in March and have visited the campus several times since.What have you been sharing with people about your early goals and approach to being chancellor?
One of my first goals is to learn as much as I can about the university, the students, the faculty, the staff, and the alumni so that I have a strong foundation and good understanding of the campus and community when I begin. That will allow me to be a visible and effective advocate for the campus in the community and to identify opportunities for growth and partnerships. I also want to ensure that IU South Bend fully participates in IU's Bicentennial campaign. This is an opportunity for us to join in this historic celebration. Our efforts in this campaign will build on the legacy of Indiana University and IU South Bend as we raise funds to advance mission-critical programs.
What was it that attracted you to the chancellor position at IU South Bend?
I was looking for an opportunity to lead a campus like IU South Bend. It is a perfect fit for my leadership style and experience. The regional campuses of IU are similar to those in the University of Wisconsin system. I'm also glad to be staying in the Midwest. My husband is from Wisconsin and we have family in the Chicago area. South Bend is an exciting city, and there is so much activity in the region. IU South Bend plays an important role in helping the residents, businesses, and organizations in the region. I am looking forward to being part of it.
How has your background prepared you to be chancellor at IU South Bend?
First of all, I'm a scientist. That means I like to use information and data to understand the situation and make informed decisions. I have led initiatives at the university, state, and national levels that focused on improving student success and faculty development. My background also includes leadership at the national level, at the Association of American Colleges and Universities, and at other universities like IU South Bend. I served as interim provost at California State University, Chico; dean of science and mathematics at Fresno State; and the director of the Center for Excellence in Science and Mathematics Education at California Polytechnic State University, San Luis Obispo.
At UW-Whitewater I led strategic enrollment planning processes where we improved everything from recruitment, to marketing, and financial aid. We also established a new framework for building new academic programs that serve new and more diverse populations of students. I am looking forward to bringing these experiences to IU South Bend.
There are a lot of demands on the position of chancellor at IU South Bend. How will you handle the work-life balance?
One of the biggest challenges will be to manage all of the information that comes my way. I will work to build a strong leadership team that can help me address the issues and take advantage of key opportunities. Managing a demanding schedule will be another one. To get started in the morning, I like to begin with a little exercise, yoga, and meditation. That is the goal, anyway! I have an Apple watch that reminds me to take a moment to breathe four times a day. At the end of the day I try to set aside some time at home to relax and reflect on the day. I spent a lot of my life in California wine country, so I enjoy a nice glass of wine! I am also looking forward to attending art, music, and theatre events on campus and in the community. I used to play the violin and enjoy symphony and string quartet performances. I'm an outdoor person, as well. So I will be looking for great places to hike and enjoy the natural beauty of the Michiana region. I am always working on my golf game so maybe there will be some opportunities to continue to do that here, as well.
What will be your main focus when you start on July 1?
My main focus will be to engage the campus, alumni, and local communities in shaping a new vision for IU South Bend that builds on its mission to serve the students, businesses, and organizations of its region. There are so many opportunities for the university to leverage for program expansion and new partnerships. It is an exciting time. and I am looking forward to getting started.