Student Leader Gets National Attention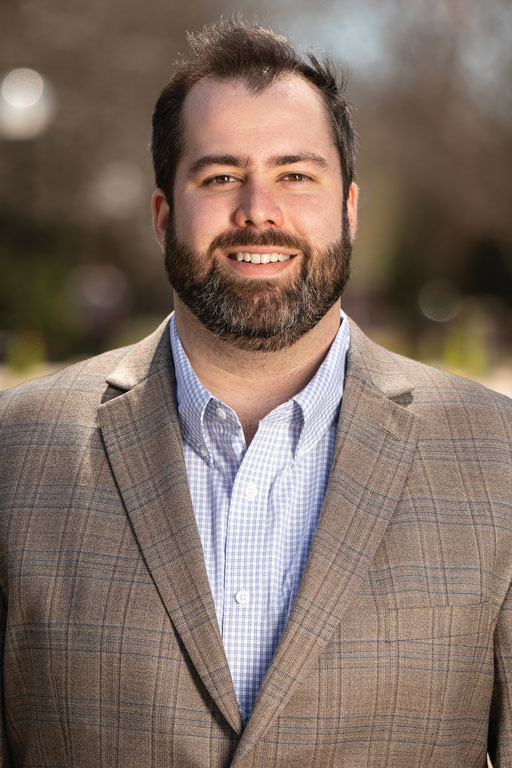 Student Rodger James Pinto's outstanding civic leadership and public service was recognized this spring with two distinguished national awards. He was one of two people to receive a National Issue Forum (NIF) Taylor L. Willingham Legacy Fund Grant to promote deliberative dialogue, and he was one of 262 students named a 2019 Campus Compact Newman Civic Fellow.
In addition to being a student of political science and public affairs, Pinto is the lead intern with the American Democracy Project, president of the Student Veterans of America at IU South Bend, and a senator in the Student Government Association (SGA). He was elected president of the SGA for the 2019–20 academic year. From 2008–2014, he served as an infantry paratrooper in the United States Army's 1st Special Troops Battalion, 82nd Airborne Division, completing combat tours in Afghanistan and Iraq.
Following his discharge from the Army, Pinto went to work in a large brokerage firm in the Indianapolis area. "I had great colleagues, and I was paid well," he explained,"but there was no element of public service. After my experience in the Army, I wanted to work in something that was constructive and made a difference."
So in 2017 he decided to enroll at IU South Bend; however, Pinto set out to do more than just take classes toward his degrees. He was determined to be a change-maker and public problem-solver on the campus and in the community.
"I am not surprised that the NIF selected Rodger as a national grant recipient," said Elizabeth Bennion, professor of political science and founding director of IU South Bend's American Democracy Project. "He is driven by his interest in collaborative decision-making and innovative public policy solutions that tackle the root causes of problems affecting our communities."
In his NIF grant application, Pinto proposed a four-part series of events designed to promote campus-community dialogues. The series he has planned for Fall 2019 will introduce deliberative dialogue and then be followed by three forums focused on the issues of immigration, climate change, and poverty— all thorny problems that affect communities locally, nationally, and globally.
What Pinto appreciates most about deliberative dialogue is it encourages thoughtful and civil conversations. Participants are provided with background information, rules of engagement, and three policy options. These options promote deep thought and discussion as the moderator guides the group through a full consideration of pros and cons related to each policy option.
"Often groups will develop their own locally appropriate, collaborative solutions," said Pinto."It's an exercise that helps us build trust in the community and have dialogues about difficult issues that lead to solutions."
Last fall, Pinto demonstrated his own skill moderating discussions about controversial issues, leading a conversation about legislation promoting guns on campus as part of the American Democracy Project's Constitution Week Coffee and Conversation series.
Shortly after Pinto learned he had been awarded the NIF grant, he was named a 2019 Campus Compact Newman Civic Fellow. The fellowship recognizes his outstanding service to the campus and provides an opportunity to further develop his civic leadership skills through training opportunities with a cohort of outstanding leaders nationwide.
"Universities represent the best places to have these conversations," said Pinto. "They are places where people are interested in learning something new and where people are exposed to a lot of different ideas."
Pinto hopes that helping students learn how to have constructive dialogues around controversial issues will lead to a stronger democracy in the years to come. "These people are going to be our future leaders," he commented. "If they can have better dialogues, it will contribute to a healthier democracy."
Rodger is a unique student at IU South Bend in that he has been allowed to pursue a bachelor's degree in political science and a master's in public affairs at the same time. He is scheduled to graduate with both degrees next spring. He then plans to go to law school.
"Whether preparing new soldiers to face combat for the first time, directing a training and counseling program for veterans facing addiction and suicidal thoughts, or creating a scholarship fund for veterans and their families," said Bennion,"Rodger lives to serve others."