Music Students Win Grammy Awards
Two students from the Indiana University South Bend Ernestine M. Raclin School of the Arts are featured on a recording for an album that won three Grammy awards.
Juan-Carlos Alarcon, a senior majoring in music education, and Salvador Perez Lopez, a 2018 graduate with a Bachelor of Music in clarinet and current graduate student at IU Bloomington's Jacob School of Music, contributed spoken word pieces and played instruments on the studio album American Dreamers: Voices of Hope, Music of Freedom by John Daversa Big Band. It swept all three categories in which it was nominated: Best Large Jazz Ensemble Album, as well as Best Improvised Jazz Solo and the Best Arrangement, Instrumental or A Cappella categories.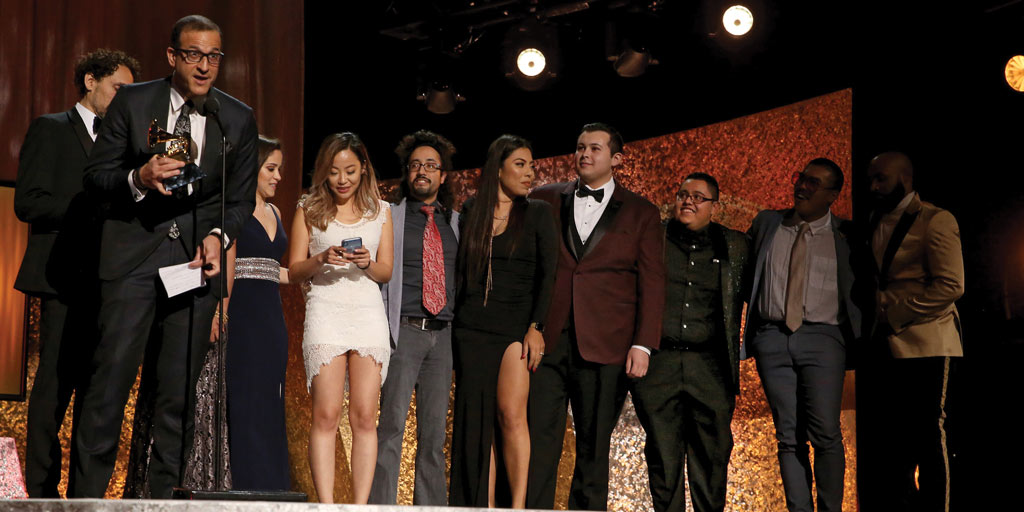 "I never would have imagined this opportunity," said Juan-Carlos. "Being invited to be part of the recording was enough for me. Seeing my face on the cover of the album was also enough for me. It was like, 'What more can I ask for?' Then after receiving news of the nominations, it was like 'Okay, this is it.' But actually winning was just an amazing experience."
The project was started as a way to raise awareness and offer support to Deferred Action for Childhood Arrivals (DACA) recipients, also known as Dreamers, undocumented immigrants who came to the United States as children. It features more than 50 DACA performers playing iconic American songs, such as "Stars and Stripes Forever" and "America the Beautiful" interspersed with spoken monologues where they tell their personal stories. In addition to their monologues, Juan-Carlos, who was born in Mexico and grew up in Elkhart, played percussion, piano, and pipe organ on the album, and Salvador, who came from Mexico and grew up in Bremen, played clarinet and percussion.
"It's still settling in. It feels great winning three Grammys, but I'm even more grateful our story is getting out and raising awareness. Now more people are listening to the album and hearing our stories," said Salvador.
Since there were so many contributors to the album, Salvador and Juan-Carlos were not expecting to be able to attend the Grammy award ceremony this past February. However, two weeks before the event, they found out the producers had tickets for them. They flew to Los Angeles,"rented some snazzy tuxes,"and got to experience the thrill of a lifetime for any musician—not only attending the Grammys, but having front row seats.
"It's first-come, first-serve seating, so we ran to the front to get seats.We were like little kids on Christmas morning," explained Salvador.
"Being out there felt like a family reunion. I didn't know what to expect, but I did not expect all that community feel inside that room. All because of the music, our common thread," said Juan-Carlos.
The album was nominated in three categories, and at the beginning of the ceremony, they found out they won the first: Best Arrangement, Instrumental or A Cappella. Then, after three hours of anticipation, the group found out the album also won the other two categories: Best Improvised Jazz Solo and Best Large Jazz Ensemble Album. Salvador and Juan-Carlos were even invited to go onstage with John Daversa during the final acceptance speech for Best Large Jazz Ensemble Album.
"It was a once-in-a-lifetime moment. Going onstage and seeing everyone stand up and clap for us—I was really happy because they were seeing the message of American Dreamers and awareness was being raised through music. I was just so happy," said Salvador.
"I feel I came back with more responsibility to be better as a musician, as a person, and to be more involved in the community. So it's not the end of a journey, but just the beginning," said Juan-Carlos.
This dream come true was a long time in the making. Salvador was first contacted about participating in the project back in November of 2017 after producer Kabir Sehgal read Salvador's New York Times opinion piece "American Dreamers" and watched some of his musical performances on YouTube. A few weeks later, Salvador was contacted by John Daversa himself, the music director and composer of the project, and in March of 2018, Salvador flew to Miami to record. "It was all surreal," said Salvador. They were in need of a DACA pipe organ player, so Salvador recommended his friend Juan-Carlos and he flew down to record shortly after.
The deeper significance of the project makes it even more rewarding to have been involved, according to Juan-Carlos. "What really makes it a wonderful experience is the fact that I got to work with all these individuals and hear their stories; coming out of the shadows and knowing there are other people like me. We all have different backgrounds, aspirations, lines of work. But we're all here for one goal, for that American dream."
This experience of being part of a Grammy winning album aligns with the career goals of Juan-Carlos and Salvador. Juan-Carlos wants to share his love of music as a music teacher. "Teaching is my passion. I want to inspire other people like my teachers have inspired me to do this."
Salvador, who is currently pursuing his Master of Music, is open to many options in the music field. "Being involved in a jazz album really opened my eyes on the different jobs there are with music. From producing, to being a studio musician, I now feel like I would be happy with any career in music as long as I get to keep playing the clarinet for the rest of my life and sharing my passion to the world."
Most of all, Juan-Carlos and Salvador hope American Dreamers: Voices of Hope, Music of Freedom leaves a lasting impact on people and their thoughts about immigration.
"I think America is a mosaic; we all bring different perspectives, views. Difference is what makes America great, not the divisions," said Juan-Carlos. "There's still so much to do. For now, we need to keep fighting, keep dreaming, keep getting involved, and just become that one."
As for Salvador, he hopes this album encourages people to dive deeper and learn more about the Dreamers. "I want people to listen to our stories. Not just on the album— but research and learn more about our situations. There are over 700,000 of us Dreamers. We are all Americans by heart, but unfortunately not on paper. The one thing we hope people get out of this album is we can all come together."
American Dreamers: Voices of Hope, Music of Freedom is available for purchase on Amazon, iTunes, and Google Play.
Written by Allison Smith, BA'08, Digital Marketing Specialist.