A Rising Star in the Destination Industry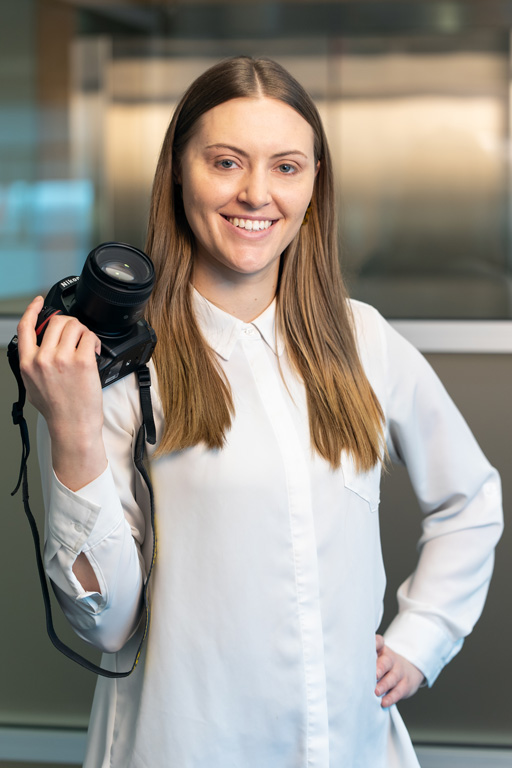 Alexandria Lechlitner, BFA'14, is making a name for herself in the destination and tourism industry. She was recently named to the 2018 class of Destinations International 30 Under 30. The program recognizes up-and-coming young talent of destination organizations nationwide. Lechlitner, who graduated from NorthWood High School and grew up in Wakarusa, landed her job as a creative specialist at Visit South Bend Mishawaka (VSBM) immediately after she graduated from IU South Bend. "I was the first designer the organization had on staff," she said.
As a creative specialist at VSBM, Lechlitner designs and creates print and video marketing pieces to attract visitors and conventions to South Bend-Mishawaka, and she is the organization's brand manager.
She also works with the marketing team to concept and produce an 84-page visitors' guide every year. "We do it all in-house—all the layout and photography," she explained.
Her video production skills helped earn her a spot in the 30 Under 30 class. Candidates were required to submit a short self-produced video answering three questions: What influenced you to join the destination marketing organization; what goals do you have for your career and your organization; and how selection will help you achieve these goals. "I was the only designer who won the award," she said.
In addition to traveling to Anaheim, California, to receive her award at the annual Destination International Conference, Lechlitner and the other members of her class participated in monthly interactive webinars to share ideas and other networking opportunities throughout the year."It was fun to meet other people in the industry and learn what they are doing," she said.
Lechlitner says her BFA in integrated media prepared her well to succeed in her job. "My main focus at IU South Bend was video," she explained, "and many of the video projects that I manage for VSBM are similar to what I did in my classes."
One of her favorite jobs is taking photos in the community. "Susan Moore, my professor when I studied abroad in Florence, taught me how to use a camera in public," she said.
She credits her study abroad experience in Florence for sparking her passion for travel and street photography. "We went out and took photos of the city every day," she explained. "We used the studios at Santa Reparata International School of Design and had a show of our photography at the end of our trip in Florence." Upon returning to the United States, the group also exhibited their photography at IU South Bend where Lechlitner sold two of her photos.
Growing up in a small community, Lechlitner appreciates living and working in a bigger city. "I love being a resident here," she said. "There's so much to do. I love walking my dog along the East Race trails and going to different restaurants and the local breweries."
She also loves promoting South Bend-Mishawaka."My job is very positive," she said. "I love capturing the emotions of rafters on the East Race or Notre Dame football fans at the stadium and sharing these events and places in a way that attracts visitors and conventions to our community."