Stay in Touch
1970s
Darlene (Tudor) Adkins, PhD, MS Ed'73 (Elementary Education), happily retired as an administrator from Elkhart Community School Corporation this year after 34 years of experience as a teacher and administrator.
Joseph Mancini, BS'78 (Accounting), received the 2018 Distinguished Alumni Award at IU South Bend's Commencement ceremony in May 2018.
1980s
William Fields, AA'81 (General Studies), is an art photographer for Two Soaring Hearts in Missouri. His artwork was featured by Images Arizona magazine in September in an article entitled, "Through a Different Light: The Photography of William Fields." The photos are from his new book The Four Directions–A Southwestern Journey.
Jay Howard, BA'88 (Sociology), is the dean of the College of Liberal Arts and Sciences at Butler University in Indianapolis, Ind. Jay is also serving as the acting dean of the College of Communication for the current academic year.
Kathleen Kennedy, MS Ed'88 (Secondary Education), is working in the Center for Research on Education Opportunity (CREO) as the managing editor of the American Educational Research Journal at the University of Notre Dame.
Jim W. Masters, BS'86 (Business, Management and Administration), has taken a new position with Toshiba as a senior barcode specialist at the Lake Forest, Calif. office.
Charles (Mike) Settles, BS'85 (Business, Management and Administration), attended the Ringo Starr and His All-Starr Band concert at Century Center in South Bend, Ind., in September. Mike wore a Sgt. Pepper costume in hopes of catching Ringo's attention. His ploy worked and from stage Ringo pointed and said, "Sgt. Pepper, I see you there," and then turned to the other side of the venue adding, "Sgt. Pepper is over here. You can't see him, but he looks good." After decades of being a fan, Mike was thrilled to catch the attention of a former Beatle.
1990s
Amy (Rowe) Daly, BA'93 (Psychology), is a bereavement counselor for Hospice of the Valley in San Jose, Calif. Amy relocated from Indianapolis to Silicon Valley for her husband's job, and landed her dream job where she provides individual and group grief support.
Sarah (Andrews) Engel, BA'96 (Theatre & Communication Arts), is director of admissions at Regis University in Denver, Colo. She has also been a Gallup Certified Strengths Coach since 2015.
Michael Frelas, PhD, BS'93 (Computer Science), earned a Doctor of Information Science from Robert Gordon University in Scotland, United Kingdom in July 2017.
Mary (Monaco) Morgan, MS Ed'99 (Counseling and Human Services), won the 2018 Outstanding Adjunct Award from Trine University.
James Timothy Smith, BS'94 (Special Education), MS Ed'01, is a retired public school teacher after 20 years of service. He now occupies his time with traveling, writing short stories, poetry, and photography. He and his wife Pam, who is also a teacher, are also activists in the South Bend community.
Jacquelyn (Helmuth) Waltz-Kunkle, BSN'96, is married to Mike Kunkle. Together they have three daughters; Sydney born in 2000, Isobel born in 2011, and Olivia born in 2011. Jacquelyn is the MDS director at Healthwin.
Victoria Wolf, BS'99 (Accounting), MBA'02, was recently appointed to the Indiana State Bar Association Board of Governors. She is managing attorney of Wolf Legal Solutions, LLC in South Bend. She received her law degree from Valparaiso University.
2000s
Brian Alwine, BS'00 (Accounting), says his degree from IU South Bend  provided  a great return on investment. Brian began his career in public accounting, working at Crowe in Elkhart and South Bend for nearly eight years. During that time, Brian attained his CPA, ABV, and ASA designations. He then became self-employed for 10 years specializing in business valuation. In August, Brian accepted a position as a senior manager with HBK Valuation Group in their Naples, Fla. office, continuing his career focus on business valuation, litigation, and forensics.
Jeffery Barlow, DNP, BSN'03, established in partnership as the senior managing member with his collegial managing members at Salubrious Nurse Practitioners that created SNAP. SNAP is a virtual visit app that allows patients in Tex., Colo., Okla., N.M., 24/7/365 access to board-certified nurse practitioners that are available when and where they are, without the need to make any appointments or sit in any waiting rooms, at a price that is affordable and fair. SNAP virtual visits have changed the way nurse practitioners both treat and educate patients to a better path to health.
Cristy Cummings, PhD, BA'09 (Women's Studies), MSW'13, completed her PhD in Social Work at Michigan State University School of Social Work. She has accepted the position of assistant professor at the University of North Florida Department of Sociology, Anthropology, and Social Work.
Lucas Eggers, BFA'07 (Graphic Design), is the associate director of creative services at the Mendoza College of Business at the University of Notre Dame, a position he started in August. Prior to that Lucas worked in alumni affairs as an engagement marketing program director at Notre Dame.
Justin Gish, BA'07 (Philosophy), is the project manager for the office for sustainability at Western Michigan University. He is also working on a PhD in science education at the same institution.
Michelle Hairston, BGS'09, MS Ed'17 (Counseling/Human Services), has relocated to Indianapolis to take a position as a therapist at Youth Villages. There she works with children and families who have been referred to DCS or Probation. Michelle works for the Intercept Program which is an intensive home based program where she meets with families three times a week. Prior to that role, she worked as a 21st Century Scholars program coordinator at IU South Bend, where she was a part of the campus family for more than seven years.
Amy E. Hill, MPA'06, was recently promoted to Chief Executive Officer and General Manager of South Bend Public Transportation Corporation (Transpo) in South Bend. She is a graduate of Saint Joseph High School in South Bend and earned a bachelor's degree in English from the University of Dayton. She has been with Transpo since 2013.
Dawn (Superczynski) Huff, BGS'05, is the new girl's basketball coach at her alma mater Adam's High School. As a student at Adams, Dawn played basketball, volleyball, and ran track. She went on to play basketball at both Earlham College and IU South Bend. Dawn has 12 years of coaching experience, most recently as an assistant coach in basketball and volleyball at Penn High School.
Joy Hughes, BS'09 (Criminal Justice), returned to school at IU South Bend to pursue her degree in criminal justice at age 23 after dropping out of high school at 15. After graduation, Joy moved to Oklahoma where she received her master's degree in psychology. She will graduate with her doctorate in May 2019. Joy passes on the message to others that "ALL THINGS ARE POSSIBLE."
David Kobb, BA'07 (English), MS'15 (Management Info Technology), has authored three books with his cousin Shawn Kobb. David was a featured guest of DTSB's First Fridays on October 5, where he talked with readers about his books Terrifying Tales and More Terrifying Tales outside Idle Hours Bookshop. His third book, Even More Terrifying Tales has since been released.
Jesús Moya, BA'07 (English), accepted the position of adult services manager for the Rosenberg Library in Galveston, Tex., in August 2017. He also earned a Master of Library and Information Science from IUPUI in 2012. Prior to moving to the Houston area, Jesús was employed in Indianapolis at the Indianapolis Public Library where he served as outreach services manager for two years. Before that he worked more than nine years for the St. Joseph County Public Library.
Maria (Macri) Qualkinbush, BA'02 (Speech Communications), credits her degree from IU for taking her from a director of sales to a director of operations, and then onto a vice president of development in her career. When she decided to change careers and attend IU South Bend in her thirties she never dreamed she could actually reach the sky. She has made wonderful friends and created life-long relationships that she continues to build upon. Her journey isn't over yet because she's still dreaming big and has become a grandmother.
Mark Royer, PhD, BS'03  (Chemistry), earned his Master of Business Administration this past September. He also holds a Doctor of Medicine from IU'07.
2010s
Desmond Atem, BSN'18, got the exciting opportunity to work as a registered nurse at Elkhart General Hospital Emergency Department after graduation. He was also recently accepted into a doctoral program where he is currently a doctor of nursing practice student, with a tract in primary care nurse practitioner. Desmond thanks the IU South Bend staff, faculty, students, and donors whom without their support this would not have been possible. He says, "Thank you all!"
Michelle Beliveau, BA'16 (Psychology), is currently a registered behavior technician working at an outpatient center for children with autism at Hopebridge. Every day she is faced with new challenges to work through and gets to celebrate her client's triumphs. Michelle sees true happiness and joy in the children's faces, and is reminded that love needs no words. Michelle is currently attending IU South Bend for her Master's in Social Work. She wants to continue making a positive difference in the community.
William (Bill) Bradford, MS Ed'13, joined the Indiana Department of Education in downtown Indianapolis, Ind. as a federal grants specialist. Bill works with school districts and charter schools all over Indiana to plan, budget, and implement federally funded title programs.
Eric Chandler, BS'10 (Elementary Education), was named principal at Hawthorne Elementary School in July. Eric has been part of the Elkhart Community Schools for seven years now, having most recently served as assistant principal at Mary Beck Elementary School. He has also taught 1st grade at Mary Feeser Elementary School, and at Roosevelt STEAM Academy he worked as an educator, academic dean, and assistant principal.
David Cook, MS'10 (Education), is the English Language Arts lead teacher for 7th grade at Edgewood Middle School in Warsaw Community Schools.
Chris Creighton, BA'11 (Political Science), passed the July 2018 Bar Exam and was sworn in to the Bar in October. Chris is the State Legislative Director for the Office of Governor Eric Holcomb.
Melody Eby, BS'15 (Economics), relocated to the Dallas-Fort Worth metropolitan area in July with her husband, where she works as the economic development specialist for Flower Mound, Tex.
Joselyn Ellington, BA'18 (Mass Communications), landed her first job in her career field as a journalist for the Elkhart Truth newspaper in Elkhart, Ind.
Kara (Taylor) Gutierrez, BFA'10 (Fine Arts), moved back to the area with her partner and daughter. She's excited to return to where she was raised, and to grow her business with local clients. Kara is a freelance multimedia designer working in print, web, and video.
Greg Hintz, BS'10 (Accounting), MBA'17, was named controller of Lacay Fabrication & Manufacturing in Elkhart, Ind. in August.
Ketevan Kartvelishvili, AD'11 (Artist Diploma, piano), PD'14 (Performer Diploma, piano), released her CD The Chase with Blue Griffin record label in 2017 to a number of great reviews. On October 6, 2018, Ketevan performed a solo recital at the PianoForte Foundation in Chicago and presented her CD following the concert.
Alexandra Lechlitner, BFA'14 (Integrated New Media Studies), was selected by Destinations International for the 2018 Class of 30 Under 30. Through this program, the organization recognizes up-and-coming talent of destination organizations nationwide. Destinations International is the professional organization for the destination marketing industry. Lechlitner is the creative specialist for Visit South Bend Mishawaka.
Tyler Leighton, BGS'10, currently works as a middle school physical education teacher and youth sports coach in the Chicago Public Schools. In 2012, he graduated with a master's in sports administration from Valparaiso. Tyler married Brittney Bolden in 2014. Together they have a 4-year-old daughter, Jordyn, and a 1-year-old son, Titan.
Daniel Little, BA'11 (Sociology), announced the birth of Abigail Loren Little on September 14, 2018 at 3:26 p.m. 21" 7 lbs 3 oz. Daniel is a master of social work candidate with an expected graduation of 2021.
Christopher (Sallak) Hillak, BGS'17, was promoted to operations lead at Apple, Inc. this past August. He has been with the company for eight years.
Rachel Santos, BA'16 (Political Science), is currently the manager of operations and communications for the Indianapolis Mayor's Office of Education Innovation. In December, Rachel will receive her Master of Public Affairs with a concentration in policy analysis from IUPUI SPEA. She is thankful for the amazing undergrad experience she received at IU South Bend. The American Democracy Project and Student Government Association taught her professionalism and helped shape her future. Santos encourages all students to get involved and make the most of what IU South Bend has to offer.
Kelly (Hjertquist) Shotsman, BA'13, BS'13 (Psychology and Criminal Justice), is a youth development specialist for Logansport Juvenile Corrections. She loves her job, utilizes both of her degrees, has advancement opportunities, and gets to watch kids turn into productive citizens. After struggling with part-time and factory work after graduation she's happy to see her degrees are paying off.
Sarah Ward, BA '16 (Mass Communications), has been working at ABC 57 news since 2014 when she started as a weekend production assistant. Now, Susan is a morning news producer of her own show.
Jacqueline (Goodnight) Wiley, BS'12 (Criminal Justice), earned her JD from Valparaiso University School of Law in 2015.
Bethany ( Drury) Zepeda, BS'13 (International Business), is an acute care sales representative for Medline Industries in Northfield, Ill. She was awarded the 2017 Presidents Award.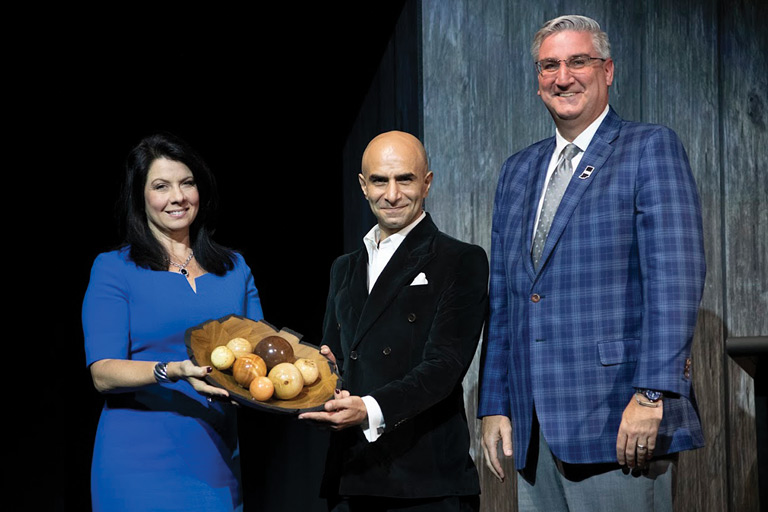 Rami Sadek, BS'00 (Business, Marketing and Advertising), MPA'06, and LangLab received the Governor's Arts Award on October 19, 2018. The Governor's Arts Award recognizes excellence in artistic achievement, philanthropy, arts educations, and leadership in the arts. The award has been given out biennially since 1973.
The 33,000 square feet that is now LangLab was once a dilapidated eyesore. The former furniture factory and electronics warehouse stood empty for many years. In 2009, Rami Sadek, Stephanie Rizk, BA'01 (Sociology), and Kahlil Smylie acquired the run-down building with a distinct vision—they wanted to see creativity thrive there. They wanted to provide a home for the abundant local potential they saw in South Bend.
LangLab has been at the forefront of the recent rebirth of the City of South Bend. Its innovative insistence that large, continuous spaces could be a major asset to the community has inspired other businesses to imagine what could be done with existing, often neglected, buildings in the community. The organization's very existence has proven that tearing down empty structures is not always the best way to revive or re-envision a city.
Over the past eight years, Rami's vision has firmly established LangLab as a community "language laboratory," aplace for multicultural communication and creation. It has ushered a vibrancy into South Bend by  providing  a low-cost, mixed use facility that brings together artists and audiences, merchants and customers, teachers and students. It has incubated new local businesses in addition to hosting hundreds of musical performances, community events, theatrical and dance performances, visual art exhibitions, classes and workshops.
LangLab has also made it possible for young people to hear local music. Because many music venues are also bars, those under 21 are not permitted to enter. Although LangLab can serve alcohol, many of its shows are open to people of all ages. Teenagers often come to hear bands, dance, socialize, and make new friends. LangLab has also provided a venue for many young performers to hone their skills and share their talents.
LangLab is the city's energy center, where imaginative people come to find others like them. The scope of this public, collective creativity continually encourages and inspires the South Bend community to actively cooperate, innovate, and participate.