Pursuing his Passions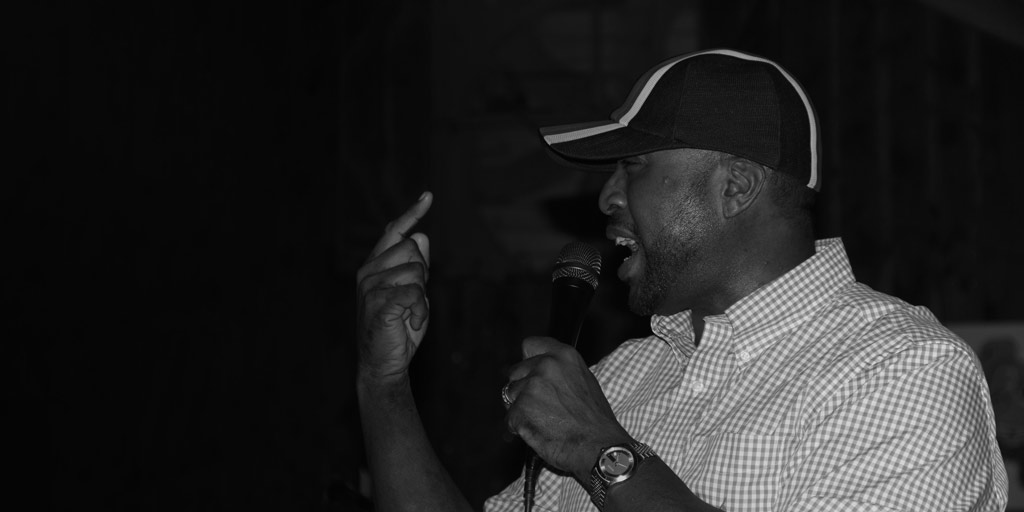 Alum leads two remarkable careers as a poet and clinical practitioner
"It all started at IU South Bend," said Andre Anderson,'99, BA Psychology. "It was my academic, spiritual, and performance wake-up call."
While an undergraduate at IU South Bend, Anderson, a spoken word artist, signed a recording contract with Pinnacle Entertainment in Nashville—recording "Say a Little Prayer" on The Pinnacle Project Bricks to Straw album.
As a student, he won first place for his speech, "Poetry: Entertain, Heal and Educate," in the 1997 IU South Bend Speech Night competition.
Moreover, his passion for the spoken word led Anderson to help organize the first Poetry Jam at IU South Bend in 1997, an event initiated by then Director of Campus Diversity Charlotte Pfeifer and Professor of Psychology and Director of the Social Action Project Dé Bryant, in response to President Bill Clinton's National Conversation on Race initiative. The Poetry Jam, held in Wiekamp Hall, featured poets from all the area high schools and colleges, as well as a jazz band. "Poetry is a universal language," Anderson said. "More than 200 people attended the event."
After graduating from IU South Bend, Anderson moved to Nashville.
He wrote the lyrics and performed the spoken words in a nationally ranked ad produced by Pinnacle Entertainment's Marc Harris and Ava Hall, both South Bend natives, in honor of Black History Month in 2003.
Today, he still performs in Nashville at venues throughout the city that his pastor, Joseph W. Walker III, organizes, as well as at events associated with the National Museum of African American Music.
Nevertheless, Anderson's engagement with IU South Bend didn't end when he graduated and moved to Nashville. In 2005, he received the Distinguished Alumni Award from the IU South Bend Alumni Association. In 2017, he participated in the 20th anniversary of the Poetry Jam, which now continues as an annual open mic event held at the Civil Rights Heritage Center. He still engages regularly with Associate Professor of History Monica Tetzloff, who led a Freedom Summer study group to Nashville where Anderson was a guest, and Professor of Psychology Dé Bryant.
"I am intentionally an Indiana University Alumni Association (IUAA) Life Member," Anderson noted. "I encourage all my fellow alums to join, leaving IU South Bend a tad better than we found it."
As part of an initiative at IU South Bend to foster conversations about racial inequity, IU South Bend Chancellor Susan Elrod reached out to Anderson and other successful African-American alumni to hear their stories. "It meant the world to me," Anderson said. "Thank you for creating and nurturing these new initiatives."
Today, the board-certified behavior analyst, who earned his master in clinical psychology from Fisk University, works with children with autism and lives with his wife and four children in Nashville.
Anderson is as passionate about his work as a clinical practitioner as he is about his spoken word endeavors. In addition to working as an applied behavior analyst for Sprout Therapy, he also consults with social skills programs targeting children on the spectrum who do not have insurance, and works with colleagues across the country on a peer-reviewed journal, Journal of Behavior, Language, Ethics and Culture.
"There are no approved black colleges with ABA programs," Anderson shared. "This journal brings behavior analysts from different cultures to represent all demographics."
It's important for children with autism and their families to feel comfortable with the clinicians who enter their homes. "Clinicians enter people's homes and help parents unlearn and relearn behaviors that will help their children with social engagement and communication," he explained. "It's vital that the family can trust and connect with the clinician. It can be more difficult if the clinician doesn't look like them or understand their culture."
As he reflected on his remarkable career, Anderson said, "I had to be a poet, and I had to be a clinical practitioner in order to make some type of headway in this industry. Ironically," he noted, "April is National Autism Month and National Poetry Month—my two passions."