This is the Ultimate Hour: An Opportunity to Reinvent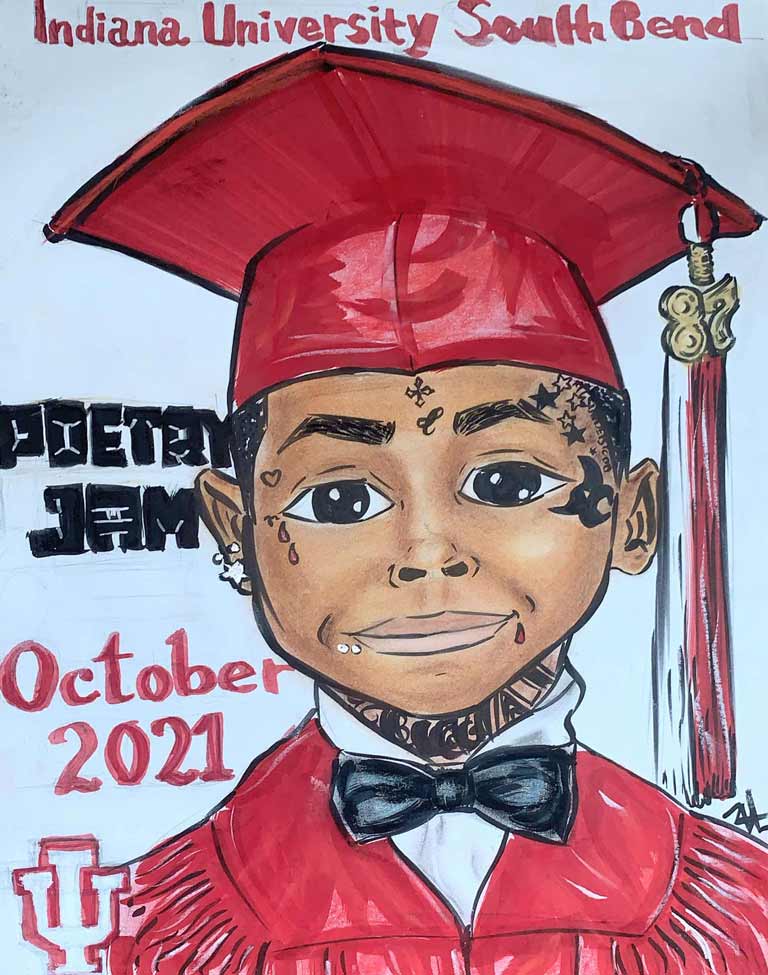 Register for the Poetry Jam
The Poetry Jam, scheduled for 6:30 pm on Thursday, October 21 at the Civil Rights Heritage Center, has been providing a platform for spoken word artists since 1997. At the time, there was no place for this type of art in our community. Andre Anderson, a student artist, would travel to Chicago for open mic opportunities. He worked with then Director of Campus Diversity Charlotte Pfeifer and Professor of Psychology and Director of the Social Action Project Dé Bryant to present the Poetry Jam and served as its first emcee. The Poetry Jam filled a void in the region and drew attendees from as far away as Benton Harbor.
Initially presented monthly, the Poetry Jam was an opportunity to uplift and validate the culture. The events featured poets from area high schools and colleges, and chat books were created highlighting the artists' works. Thanks to other poetry events springing up, including the Poetry Den – a monthly spoken word event hosted on the third Sunday of every month at the Civil Rights Heritage Center, it became less crucial for the Poetry Jam to meet so frequently.
In 2017, we celebrated the 20th anniversary of the Poetry Jam. Andre Anderson, BA '99 (Psychology), is now an applied behavior analyst working with children with autism in Nashville. He continues to be a driving force in the planning and presentation of the Poetry Jam. Since the 20th anniversary in 2017 he has coordinated with Houston artist Michael Williams Jr. to develop a visual art piece to guide the theme and represent the Poetry Jam.
For Andre this is a family affair. From working with Williams, his cousin, to being surrounded by family in attendance, including his grandma, to reconnecting each year with his IU South Bend family of faculty, staff, and alumni. But more than a reunion, Andre talks about the importance of the Poetry Jam.
'Social Infrastructure' a term coined by Eric Klinenberg, is at the heart of creating shared values and transforming America's societal challenges in meaningful ways. Poetry/Spoken Word is one of those poignant and powerful art forms which empowers voices from areas otherwise unheard. Poetry/Spoken Word helps to clarify my 'why'. Drs. Bryant and Tetzlaff have dedicated their careers to valuing narrative. When alumni, faculty, lyricists, retired professionals, students, and potential students gather together to amplify the voices of many, the university and community experience a win-win.
After hosting the Poetry Jam virtually in 2020, we recognized the value of breaking down geographic barriers as attendees joined the call from across the United States. While we're happy to return to an in-person gathering at the Civil Rights Heritage Center, we will continue to offer a virtual option for those unable to attend in person.
What can guests expect at the Poetry Jam? 
Assistant Director and Curator at the Civil Right Heritage Center George Garner says, "Having this space again echo with beautiful poetry is long overdue, and was so sorely missed. This is a chance to witness what we already know—how much talent is found within the IU South Bend community—gathered in one place for one beautiful evening."
Andre Anderson shared his view of the event. "I'm quite biased, but where else can you get an artistic expression of hope, humor, humility, honor and a sense of home between collegial and community members…for free? Not to mention, as an alum, I am inspired to see more: lifetime IU Alumni Association Members, Neal-Marshall affiliates and Social Action Project (SOCACT) participants open up their gifts, paying it forward.
Join us on Thursday, October 21 from 6:30-8:30 p.m. in person or online for the Social Action Project 2021 Poetry Jam, "This is the Ultimate Hour: An Opportunity to Reinvent." It promises to be a meaningful experience.
Register here