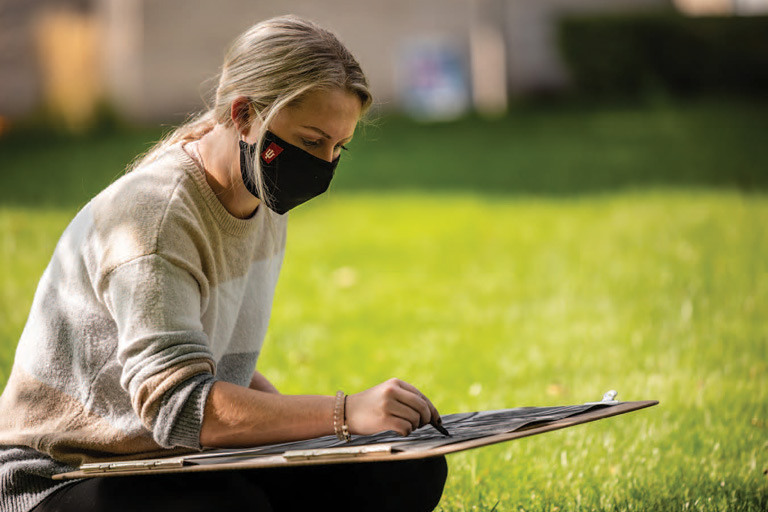 Though IU South Bend held its first day of classes of the fall semester on August 24, it was not business as usual with crowds in hallways, full classrooms, and welcome week festivities.
Like others around the country and world, IU South Bend's community has felt the impact of COVID-19. Alumni, students, faculty, and staff have risen to the challenge, met adversity, and are doing their best during a tough 2020.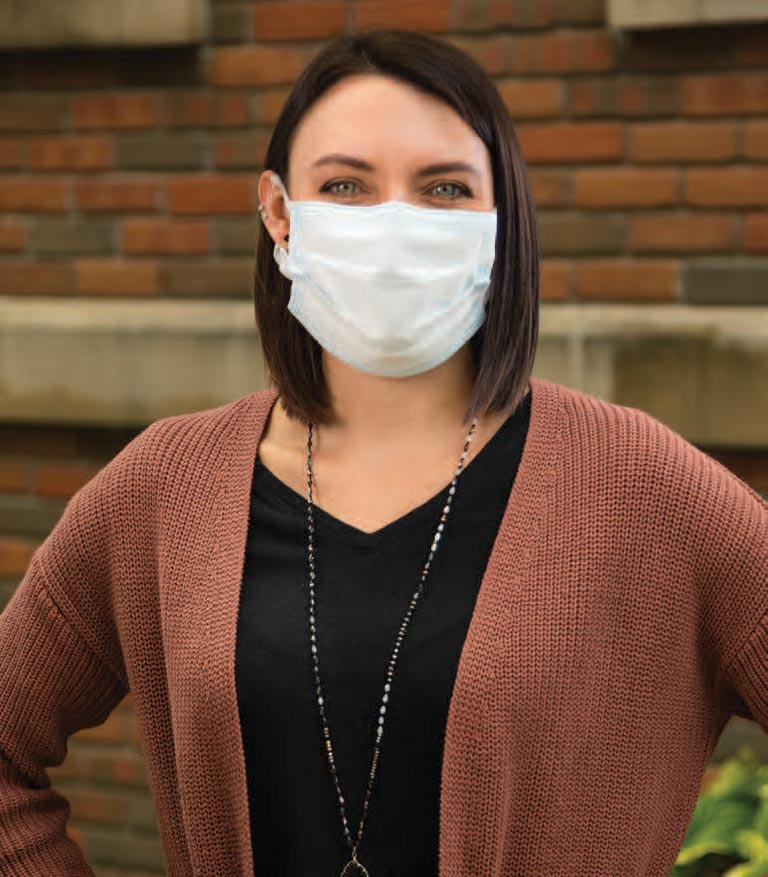 In mid-March the COVID-19 was in the early stages of grabbing headlines and causing concern. IU South Bend alumna Jennifer Viehe Swain (BSN '15) is a critical care nurse at Elkhart General Hospital and was part of the team that did the first COVID intubation in Elkhart on one of the area's first patients.
"It (COVID-19 virus) was never something we thought we would be dealing with. But it is part of the job to take care of people," she said. "I feel that my IUSB education helped me to excel."
Jennifer said in those early days in March, hospitals were listening to what was happening in New York and learning from those cases. "Everyday there was a new update. Treatments were changing. We hadn't figured out what to do."
In addition to work, Jennifer was concerned about taking the virus home where she has a young child. "That was scary at first. Was the PPE fitted properly? What do you do with the shoes? Now we change shoes before going home and I take a shower as soon as I get home."
It (COVID-19 virus) was never something we thought we would be dealing with. But it is part of the job to take care of people. I feel that my IUSB education helped me to excel.

Jennifer Viehe Swain
As for what is around the corner, Jennifer said the hospital and staff are prepared. "I expect this will continue for a while." The nursing students who she oversees from IU South Bend are prepared and educated to head into the storm in the future.
Not taking time to rest, this fall Jennifer is continuing her nursing studies for a master degree in the family nurse practitioner program at IU South Bend.
As Jennifer and other students returned to campus this fall, they encountered a very different environment. IU altered the academic calendar so that the fall semester ends November 20 and the spring semester will begin January 19 with the first three weeks only online. Nearly half of classes are entirely online or virtual, with more offered in a hybrid mode and only a third offered in-person.
At IU South Bend, seven Restart Working Groups made up of more than 80 faculty, staff, and students worked over the summer to develop recommendations and guide the campus to a safe opening.
Arrangements were made for classrooms and offices to de-densify and meet physical distancing requirements, and everyone is required to wear masks on campus. Staff, faculty, and students signed an agreement to commit to individual health and safety practices before returning to campus. The nearly 300 students living in campus housing were required to complete a pre-arrival COVID-19 test within 10 days of moving in and on arrival testing the day they moved in.
On-campus safety is at the forefront with disposable masks, hand sanitizer stations, deep cleaning, signs, and plexiglass dividers. And a public dashboard provides information to the community about testing results at all IU campuses.
As the country and the campus enter the third season of the virus, what will be remembered about this time? How were lives changed?
The IU South Bend Schurz Library will be asking such questions of the campus and the River Park neighborhood for an oral history project. Archivist Scott Shoger is leading the project, working with honors students this fall to conduct interviews.
Julie Feighery, associate librarian and head of public relations and outreach, developed the oral history idea over the summer. Shoger said the campus was part of similar oral history projects for IU's Bicentennial and the Civil Rights Heritage Center. This version will focus on faculty, staff, students, and alumni. River Park will be included because the campus is an integral part of the neighborhood. Shoger hopes to collect 150 stories.
"It is fascinating for research. This will be the history in 50 years," Shoger said.
Connie Peterson-Miller, director of the Office of Admissions and International Student Services at IU South Bend, has such a story. She took the fatigue of the pandemic as an opportunity to embrace her love of sewing, needlework, and doing good to create face masks.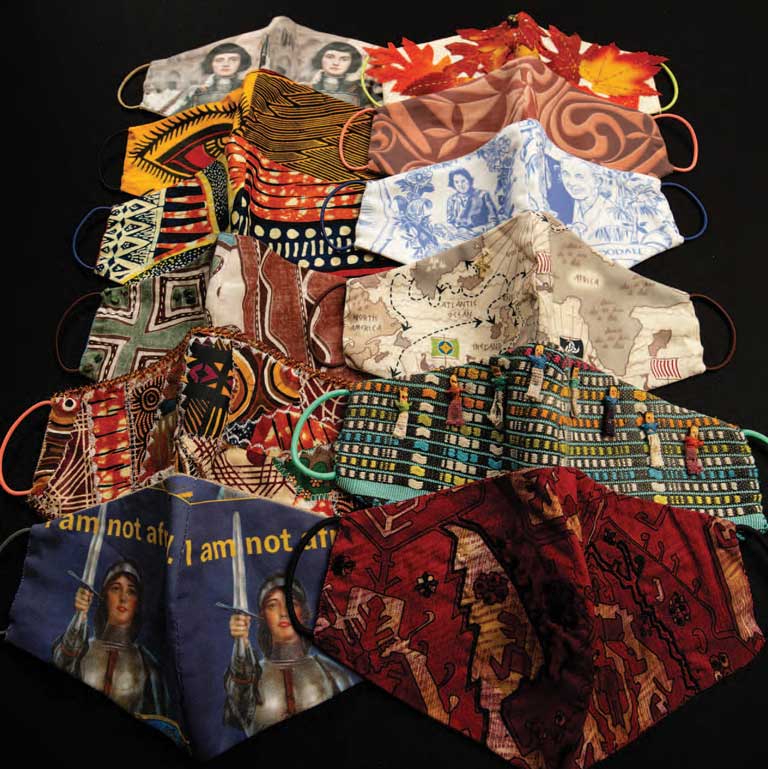 "I looked for restoration in the memories associated with different fabrics and items I had collected over the years and from around the world."
She researched fabric and traditions and explored face masks, cultural identity, protection, and security. She uses the pattern from a Taiwanese motorcycle mask, which has a bigger surface area to protect the face from street fumes, sews a mask, and then adds embellishments of beads for a mixture of art and culture.
I looked for restoration in the memories associated with different fabrics and items I had collected over the years and from around the world.

Connie Peterson-Miller
As she finished a few, she posted the photos on Facebook describing the cultural significance of each mask. "People began to ask if I would be willing to send them one, so I mail them off and when they ask if they can pay me, I suggest they donate to the Civil Rights Heritage Center."
She said she has made about 50 masks, sending them to Norway, Germany, England, France, and several states, and sees them as a way to care for others. "They now bind us together."