The Man Who Transformed Titan Athletics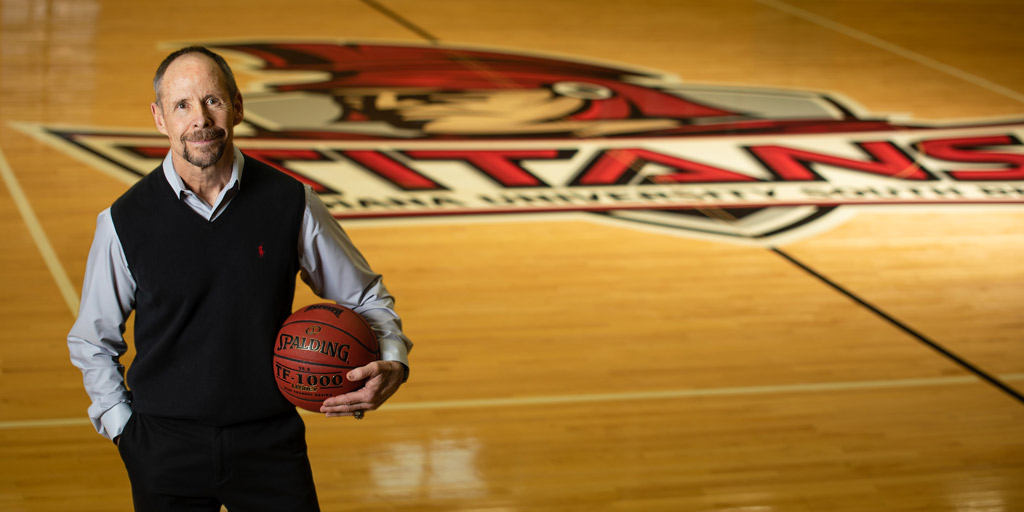 When Steve Bruce was named executive director of athletics and activities in 2014, IU South Bend had three varsity sports. Today, under his leadership, there are 13 sports: men and women's basketball, women's volleyball, men and women's cross country, men and women's golf, men and women's tennis, women's softball, men's baseball, competitive cheer, and women's soccer starting next fall.
If you go back even further, when Bruce was named the head coach of women's basketball in 2006, the Titans had only two varsity sports: men and women's basketball. Women's volleyball was added in 2010.
A change in National Association of Intercollegiate Athletics (NAIA) policy, led to the expansion of IU South Bend's athletic program. "The wheels began to turn in 2013," he said. "In order to compete in post-season play, it was mandated that you must have six sports by 2015."
Former IU South Bend Chancellor Terry Allison had noted Bruce's experience, leadership,and skills in building an exceptional women's basketball team and asked him to be the executive director of athletics and activities. Bruce took the job and remains the women's basketball coach, something that runs in his family.
"My father, a former basketball coach at Chagrin Falls High School, (Ohio) taught me that my role as a coach is to try to make a positive difference in the lives of the student athletes I coach." In his role as athletic director, Bruce seeks to hire coaches who aspire to the same philosophy of coaching; and in turn, his coaches recruit student athletes who fit that model. "My goal is to have our student athletes be the shining stars of the campus," Bruce said. "I want them to standout in the classroom, on the field, and in the community."
Over the last five years, Bruce has been instrumental in building an athletic program and hiring staff who develop scholar-athletes. In the 2017–18 academic year, Titan student athletes were standouts in the classroom with a 3.08 overall grade point average. Under the leadership of first-year baseball coach Doug Buysse, the Titan baseball team received the Champions of Character Team Award as voted on by fellow Chicagoland Collegiate Athletic Conference coaches.
The expansion of IU South Bend's athletic program continues with the addition of women's soccer in fall 2019. "When we add a sport," Bruce explained, "We think about the right balance between men and women's sports, what sports will thrive, and the facilities available to support the sport."
One of the challenges in his job is finding facilities for the new IU South Bend athletic teams. Working with the community, he's been able to find creative solutions. Recently, with the generous support of business and civic leader Dick Pfiel, IU South Bend was able to work out an agreement with the City of South Bend Department of Venues, Parks, and Arts to renovate Veterans Memorial Park to be the home field for women's softball. The ball field has received rave reviews from players, coaches, and fans.
The men's and women's tennis teams play at Leeper Park in good weather, and in the winter months at the South Bend Racquet Club. The South Bend Country Club hosts men's and women's golf, and Newton Park is home field for the men's baseball team and the newly added women's soccer team.
Last year's student athlete orientation was one the proudest moments in Bruce's career. "125 student athletes filled the bleachers in the Student Activities Center," he said."In the early days, they filled just one row."
As Bruce reflected on his accomplishments, he was grateful for the opportunity to interact with so many talented people on the campus and in the community. "I never envisioned myself as an athletic director," Bruce said. "I just try to be the best teammate I can be for IU South Bend."
But what matters most to Bruce is the experience of the student athletes. "I want their time spent at IU South Bend to be rich and rewarding, led by coaches who care first and foremost for who they are as people, with the forum of athletics being a tool to touch lives in a positive and lifting manner."
Go Titans!