Aiden Miller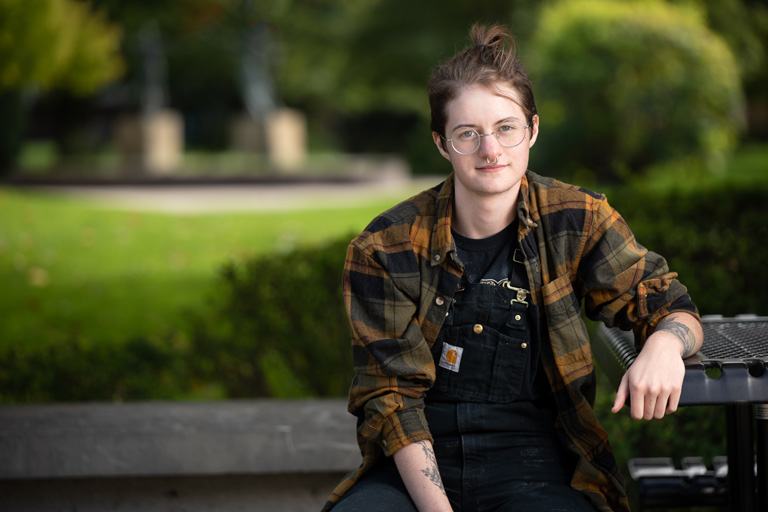 Aiden Miller fell in love with IU South Bend during a high school visit to the campus. "The campus was beautiful, and not too big," he explained. "I liked the small class sizes too."
At Plymouth High School, Miller was an activist for LGBTQ students. As the co-director of the Gender and Sexuality Alliance, he educated and advocated for students who, like himself, changed their gender identity. "I pushed the boundaries at my high school to be allowed to use the correct bathroom, hoping to make life easier for transgender students who followed me," he said. "And I wrote articles about how to go about changing your gender identity."
It's been a difficult struggle,but an important one for Miller. "As a transgender man, I was often labeled as a woman," he explained."It was a struggle in high school and in my job to be recognized as a man."That's one of the things he really appreciates about IU South Bend. "I just exist here as a guy," he said.
The son of an artist and a nurse, Miller is pursuing a nursing degree with a minor in art. He commutes to campus from Walkerton, Ind., where his dad has an art studio. Miller's found his art class the most challenging so far. "I'm used to creating art that just looks good to me," Miller said. "I'm learning challenging new things about composition, continuity, and the visual aspects of art."
The Herbert Scholarship enables Miller to save funds available through his father's Purple Heart benefits for his graduate education. "The Herbert Scholarship gives me more options down the road after I earn my undergraduate degree," Miller said. "I really appreciated the technology stipend to purchase a laptop, too," he added.
In addition to enjoying challenging classes, Miller has felt very accepted at IU South Bend. "IU South Bend has felt very open," he said. "It feels like a fresh start."