Pulitzer Prize Winner Poet Laureate Rita Dove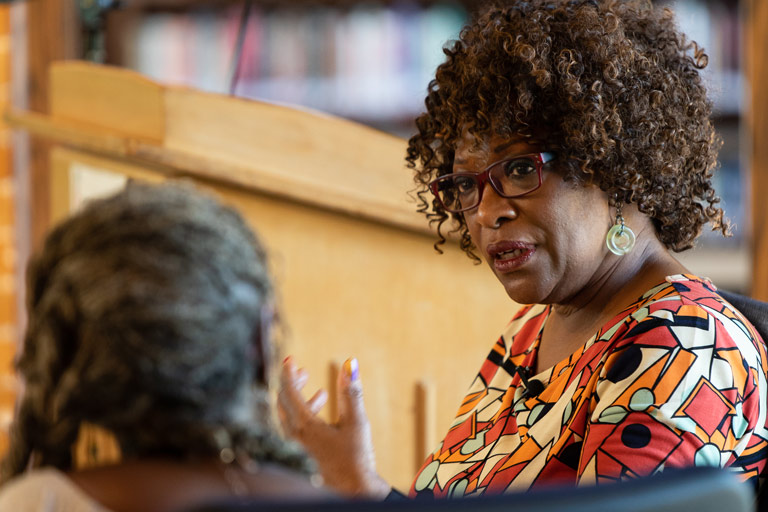 The campus and community got the opportunity to hear Pulitzer Prize winner and former Poet Laureate Rita Dove during her visit as the 2018 Bender Scholar-in-Residence. Dove spent two days at IU South Bend with public appearances at the Civil Rights Heritage Center and the Louise E. Addicott and Yatish J.Joshi Performance Hall. Students, faculty, staff, and community residents got to mingle with one of the most important literary voices of our time as she took time to meet people, answer questions, and discuss her life's work.
Dove was the youngest winner of the Pulitzer Prize for her poem "Thomas and Beulah" in 1987 and in 1993 she became the first African American woman to hold the title of United States Poet Laureate.
Dove started her lecture by saying "Our vocation as poets is to bathe ourselves  in the world." She read and discussed her latest original work Sonata Mulattica which consists of 84 poems. It tells  the  story of a mixed-race musician named George Bridgetown who was a colleague of Ludwig von Beethoven.
Dove also reflected on her life growing up in Ohio. Dove said she was painfully shy which helped her become a diligent observer which has served her well, "I watched, listened, and learned." A voracious reader, she fell in love with words at an early age. "Poetry unfolds at the heart of language," she said.
As a culture we have forgotten how to listen. We know how to talk but we don't listen.

Rita Dove
During a question and answer session she was asked how she sees herself as a poet in a world of politics. She said art plays a vital role in life and artists need to "get out there and bear witness." She added, "As a culture we have forgotten how to listen. We know how to talk but we don't listen. I think what art does is make us listen. We stop for a moment."
Dove was recently named the new editor for the poetry section in New York Times Magazine and is professor of English at the University of Virginia.
The Bender-Scholar-in-Residence program features a prominent figure from the arts and sciences each year. It was established in the College of Liberal Arts and Sciences by the family of Eileen and Harvey Bender who were beloved married professors at IU South Bend and the University of Notre Dame.