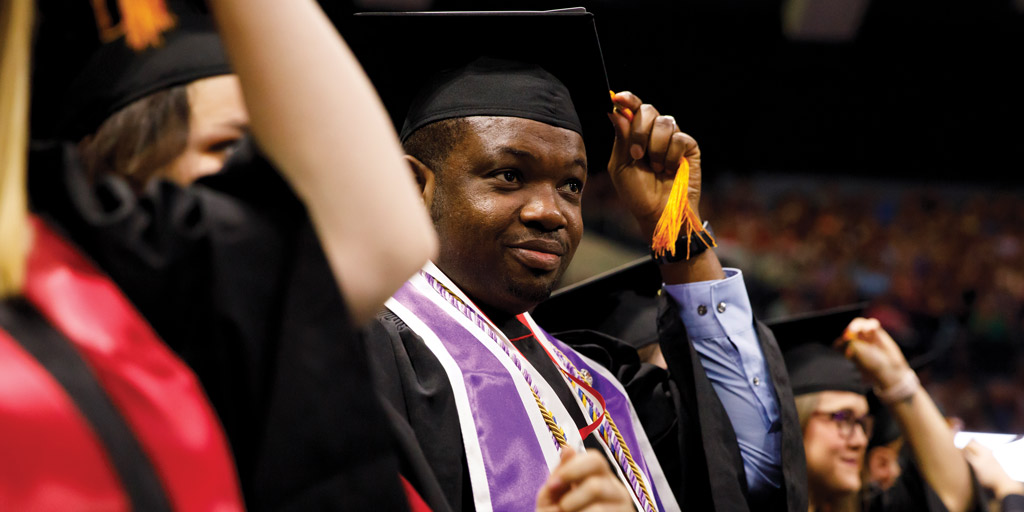 The Indiana University Bicentennial Campaign launched in January of 2012 and is scheduled to conclude at the end of June, 2020. As you read this article, Indiana University South Bend will have been in campaign for 6 years and it is a perfect time to report our progress to date.
First, let's look at the numbers. Campaigns are traditionally about setting a goal and then striving toward that goal. The goal for IU South Bend is $35 million. I am most pleased to share with you that through 6,560 gifts from 4,995 donors, we have raised more than $26 million. These gifts have come from students, staff, faculty, retired faculty, alumni and friends. We have also been blessed with financial support from foundations and corporations primarily in Northern Indiana. Below is a recap of where some of these gifts originate:
Staff: $92,923
Faculty: $497,019
Retired Faculty: $818,418
Alumni: $2,288,357
Foundations/Corporations: $19,733,831
These generous gifts are critical to the success of IU South Bend. The university has three sources of revenue. We receive income from budgetary allocations from the State of Indiana and to a lesser extent, the Federal government. In 2017, IU South Bend received $23 million from the State of Indiana.

We also receive income through students' tuition and fees. There is a careful balancing act that perpetually weighs the importance of low tuition against the real expense of
maintaining our beautiful campus, funding our impressive faculty, and offering an excellent Indiana University education.
Tuition at IU South Bend is approximately $7,000 per year. By comparison, tuition at other Northern Indiana universities and colleges runs from Notre Dame's tuition of $53,000, to Goshen College's tuition of $34,500, and Bethel  College's tuition of $28,000 per year.
The third source of revenue is from philanthropy. Philanthropy is the fuel that drives IU South Bend towards excellence. One of the most important successes of the campaign is additional scholarships in many areas.
One donor started the Opportunity Scholarship which benefits minority student with financial need. Since the scholarship was established, 310 students have benefited from this gift. Another example is the Bloss Scholarship, which supports three academic merit students to attend all four years at no charge. So far 16 scholars have received awards.
There are also scholarships that focus on specific colleges and schools. Both the Vera Z. Dwyer College of Health Sciences and the Judd Leighton School of Business and Economics have dozens of students that are benefiting from endowed student support. Even the IU South Bend Alumni Association has made scholarships a priority; working with donors large and small to provide added financial support to our students annually.
Our beautiful campus has also benefited from the generosity of friends and alumni. The Louise E. Addicott and Yatish J. Joshi Performance Hall is a jewel at the center of the Ernestine M. Raclin School of the Arts. Newly renovated, the Vera Z. Dwyer Hall provides state of the art laboratory space for our clinical laboratory sciences and is the home of the IU South Bend Health and Wellness Center and our partner in community health care, HealthLinc.
We will see additional improvements to campus made possible by friends and alumni. Both the Schurz Creative Lab and the Torres e-Commerce Data Analytics Lab will come on line early next year. Perhaps our boldest new initiative will launch at the Elkhart Center. Partnering with the Community Foundation of Elkhart County, the Elkhart Center will be the new home of three proposed graduate level programs. First will be a masters level programs in Speech Language Pathology and two new programs at the doctoral level are planned in Occupational Therapy and Physical Therapy.
No campus story would be complete without mentioning sports. Many donors have quietly contributed to the 13 sports teams that IU South Bend is fortunate to field. The latest addition to our sporting explosion is Pfeil Field at the Veterans Memorial Park—which is home to our softball team, and was made possible by one generous donor with a vision for innovation.
I am humbled by the unselfish generosity of our donors. Every gift, large and small, helps us complete the mission of IU South Bend. We are grateful to serve Northern Indiana and to be an important part of Indiana University.
Written by Stephen Sturman, vice chancellor for University Advancement