A Webmaster and a Trailblazer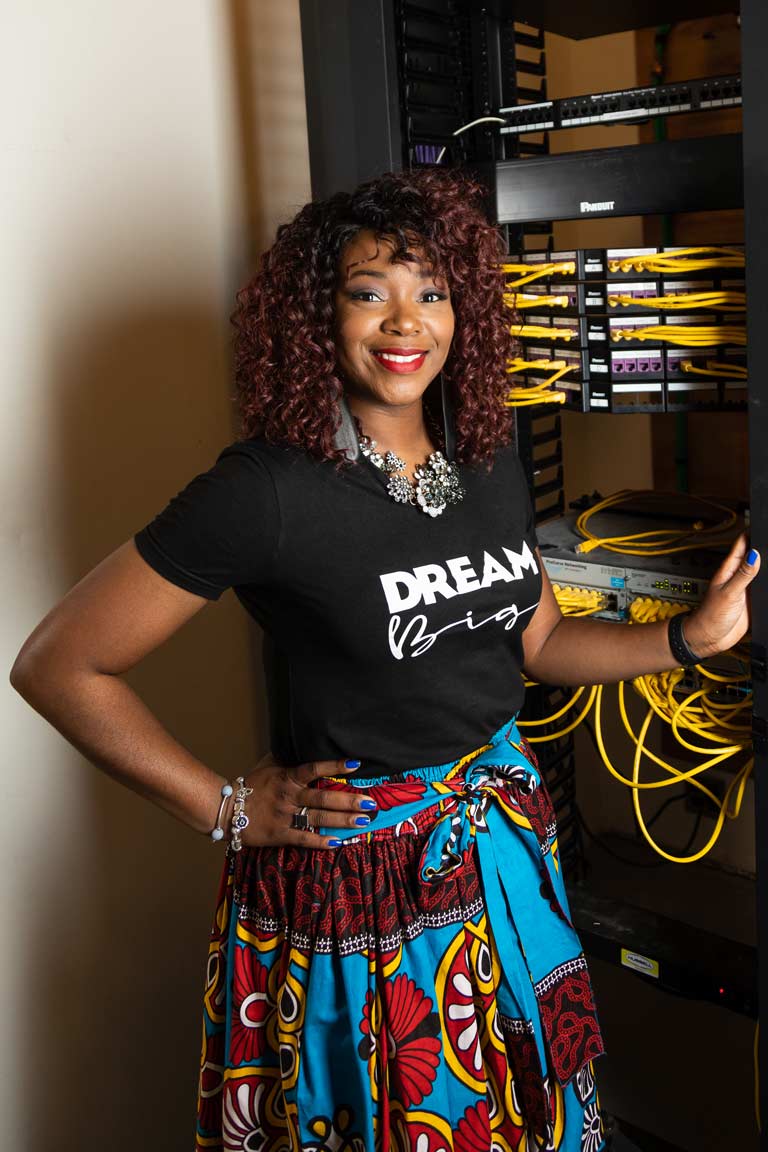 IU South Bend's Manager of Web Services Dorlita Blakely's fascination with computers began four years after high school when she was introduced to her friend's sister's computer. "I'd never had any real computer experience,"explained Blakely."I saw what it could do and I was fascinated."
Blakely saved money to purchase her own computer and taught herself how to use it.  "I wanted to know how the web worked," she said. It wasn't long before she created her first website—a portal that was a guide to shopping online. She was able to get affiliate accounts with Walmart and Target, and she also earned commissions from the Google ads she created. "I decided if I was able to do all that on my own, imagine what I could do if I went to school."
Minority women are rare in the field of information technology and web development. According to a recent study by the national Center for Women and Information Technology, in 2017, 26 percent of the computing workforce were women, less than 10 percent were women of color, and 3 percent were African American women. Blakely is a trailblazer.
With the help of a friend, the mother of three children enrolled at IU Northwest to pursue a bachelor's degree in computer information systems. In addition, she began working part-time on campus as a web technician. Her ability to quickly learn the complexities of web development and information technology was noticed and she was selected for the Gerald L. Bepko Internship Program. That year she created IU Northwest's first virtual reality interactive campus map.
Clearly a gifted student in the field, a year before she graduated she was hired as the IT Operations Manager for the City of Gary, managing a three-person office. "I really enjoyed my work with the City of Gary,"Blakely said. During her tenure, she developed an intranet for city employees and worked with AT&T to switch the city's phone systems to a
Voice Over Internet System (VOIP). Some of her favorite responsibilities included fixing the computers in police squad cars and installing internet at the airport. "I got to work in the air traffic control tower," she said.
Blakely enjoyed her work with the City of Gary, but her heart was with Indiana University. When the manager of web services position became available at IU South Bend she jumped at it. She  was  hired  and  is  now a member of the University Information Technology Services group at IU South Bend. "I am very happy to be back at IU," she said.
Since arriving on campus in 2016, Blakely has completed the migration of IU South Bend's website to a responsive design framework, centralized the maintenance of the website, and is responsible for all aspects of web services.
Blakely breaks the stereotype of a computer geek. She enjoys fashion design and does some modeling. She is also an entrepreneur, having opened a Christian clothing, jewelry, and book store—PHIA Collections & Maxi Fashions in South Bend with her husband. "I started sewing some of my own maxi fashions and wearing them to church," she explained. "Then people started asking me to make skirts for them."
A licensed minister, Blakely founded the non-profit organization Hidden in God, Inc. She writes devotionals and designed a podcast for the app she created for the organization. As Blakely reflects on her career advancement in a high-tech field, she's humble about her journey. "I love my job," she said. "I get to do what I love every day."