A Legacy of Sustainabilty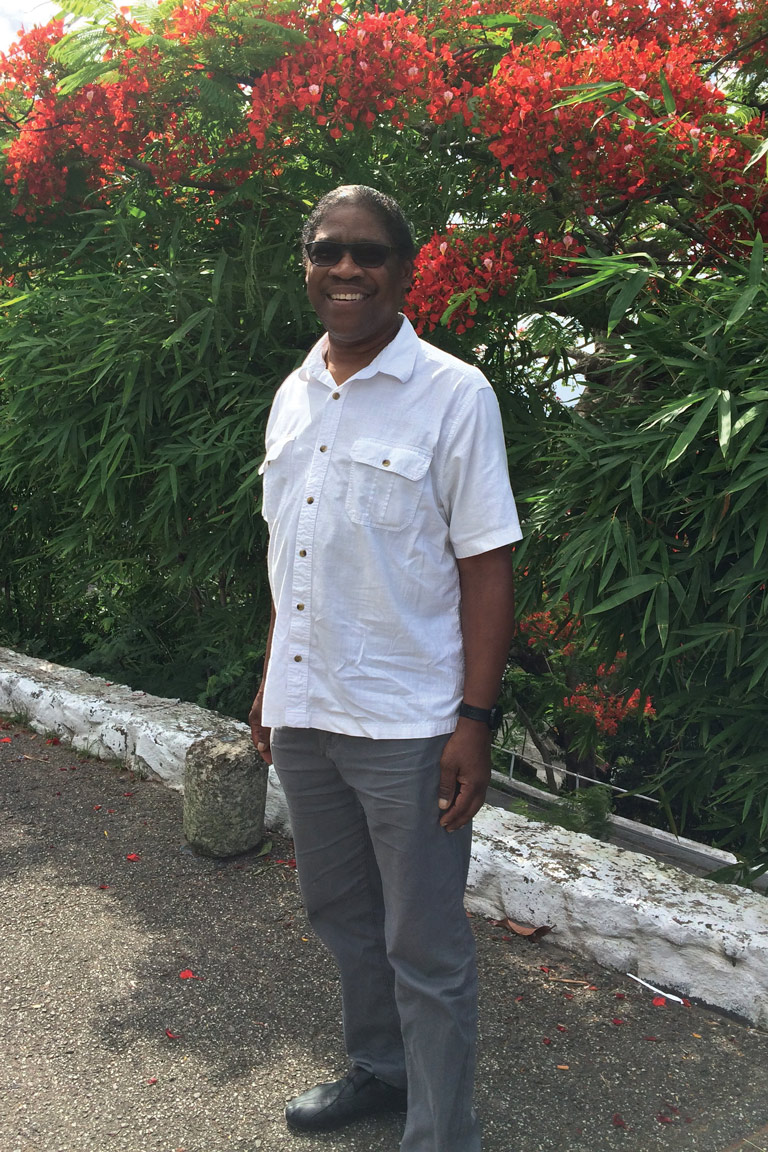 The Sustainability Studies program at IU South Bend attracts students, faculty members, and others who want to help save the world.
One of those people was Professor of Sustainability Studies Edwin Joseph, who passed away from cancer this summer at the age of 60. Joseph came to IU South Bend in 2014 with his wife Jann who is now serving as interim chancellor. In his short time on campus he made an impact on the Sustainability Studies program, his students, and colleagues.
"Edwin was that special and all too rare combination of scholarly expertise with a hands-on, can-do, get-it-done attitude," said Mike Keen, emeritus professor and founder of the Center for a Sustainable Future at IU South Bend. Keen spoke of the classes and projects that Joseph brought to the program including building his own stereoscopic drones to measure hydrology and working with students to create a 3-D topological map of Bowman Creek."He was a geographer, agronomist, and urban farmer," said Keen. "Sustainable, of course."
He collaborated with his students to help them identify the spark that linked them to sustainability and then he set them loose.
Joseph grew up in Trinidad and moved to the United States in 1992. He earned a bachelor's degree in rural sociology, a master's degree in continuing and adult education, and a Ph.D. in development studies at the University of Wisconsin—Madison. He wanted to help struggling farmers gain access to and use technology to improve productivity. Joseph was teaching now common urban sustainable planting techniques back in the early 1980s. "As a professor, Edwin focused on learning," said Keen. "He collaborated with his students to help them identify the spark that linked them to sustainability, and then he set them loose."
Among the courses he taught was Sustainable Urban Agriculture where students tested soil for growing food in buckets so low income and space limited people could produce food on patios and porches. He also challenged students to redesign the IU South Bend campus garden that led to plans to develop 10  city lots west  of  the Schurz Library as  a sustainability learning space. "He was consistently organizing coursework with a community engagement focus," said Krista Bailey, the current director of the Center for a Sustainable Future, "He modeled what it means to live your beliefs."
"He liked to be called Edwin," said student Tony Bush. "He has been an inspiration to me. He immersed you in the course materials as if you were in the field working on a project."
Keen added that Joseph encouraged students to create rain gardens, assemble water barrels, and experiment with urban farming on campus and in the community. "He was always experimenting with everything."
Joseph's contributions to the sustainability program at IU South Bend joined others that have propelled the program forward over the past 11 years. Students formed a Sustainability Club, there are plans for a Sustainability Showcase located on campus, there are sustainability-focused study abroad trips to Iceland and Costa Rica, there is a Sustainability and Innovation Speakers Series each spring, the Sustainability Committee continues to bring initiatives to campus, and the advisory board is strong.
Thanks to the work of Keen, Bailey, Joseph and others, IU South Bend has built a reputation that is attracting students to study here. The Center for a Sustainable Future is fulfilling its mission of helping the region meet the needs of the present without compromising the ability of future generations to meet their own needs.
Memorial contributions can be made to the Edwin Joseph Sustainabilities Studies Scholarship, Indiana University South Bend, Office of Development, 1700 Mishawaka Avenue, South Bend, IN 46634.