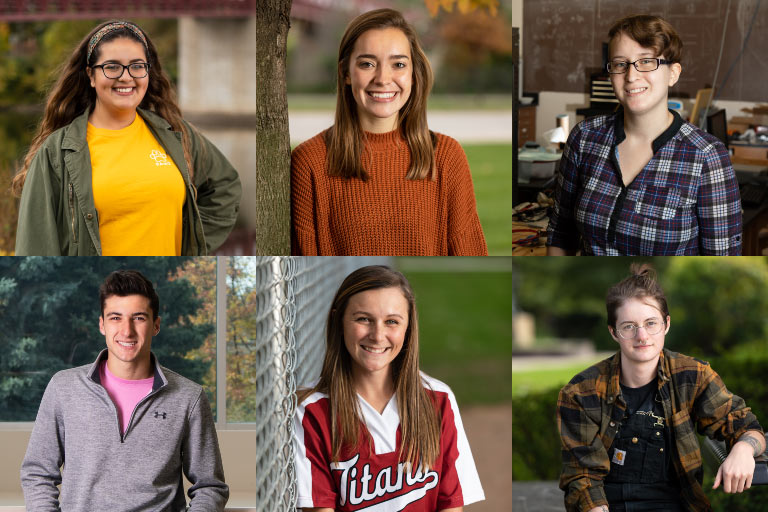 This fall, IU South Bend welcomed six Adam W. Herbert Presidential Scholars to its freshman class—students who were the best-of-the-best of Indiana's graduating high school seniors; students who were talented enough to be admitted to any college in the country; students who chose IU South Bend after being awarded what is considered one of the most prestigious scholarships at IU.
All six IU South Bend 2018 Herbert Scholars ranked in the top ten of their high school graduating classes, and they represent the highest number of Herbert Scholars ever to enroll at IU South Bend in a given year.
The Herbert Presidential Scholarship, named in honor of Indiana University President Emeritus Adam W. Herbert, was funded by the Lilly Endowment to support its vision to attract and retain Indiana's brightest students to Indiana, and is awarded to 70 incoming freshman on all eight of IU's campuses.
An outstanding student in high school, 2018 Herbert Scholar Mya Piccone considered a lot of colleges, including other IU campuses, before choosing IU South Bend. "When I visited IU South Bend, I could imagine myself here," she explained. "The Herbert Scholarship made the decision simple."
In addition to outstanding academic records, the criteria for choosing Herbert Scholars includes evidence of strong leadership skills
through school and community service. The intent is that these students will continue  to excel and seek leadership opportunities on their selected IU campus. All six 2018 Herbert scholars are also enrolled in the Honors Program, where they are required to complete a community outreach project as part of their freshman Honors Seminar, and one Honors course a semester.
Herbert scholars also receive a technology stipend to assist them with purchasing a computer and a study abroad stipend to expand their educational opportunities internationally. Rana Hamad, a 2018 Herbert Scholar and biochemistry/pre-med major, hopes to use her stipend to travel to Costa Rica or Europe as part of an IU South Bend study abroad experience.
On the pages that follow you'll find a snapshot of IU South Bend's six talented 2018 Herbert Scholars.